What makes Facebook a great platform for events?
It's user-friendly, lets you regularly engage with your audience, and tracks responses to your event in real-time. Best of all, Facebook is indisputably the most popular social media website in the country. A recent survey by We Are Flint shows that 61% of UK adults online – a staggering 28.1 million people from all age groups and walks of life – use it every day. That's roughly three times as many users as Twitter, Instagram, or LinkedIn.
These features make Facebook ideal for marketing everything from flagship exhibitions to benefit concerts. Here's a step-by-step guide to using it for your event:
1. Create the event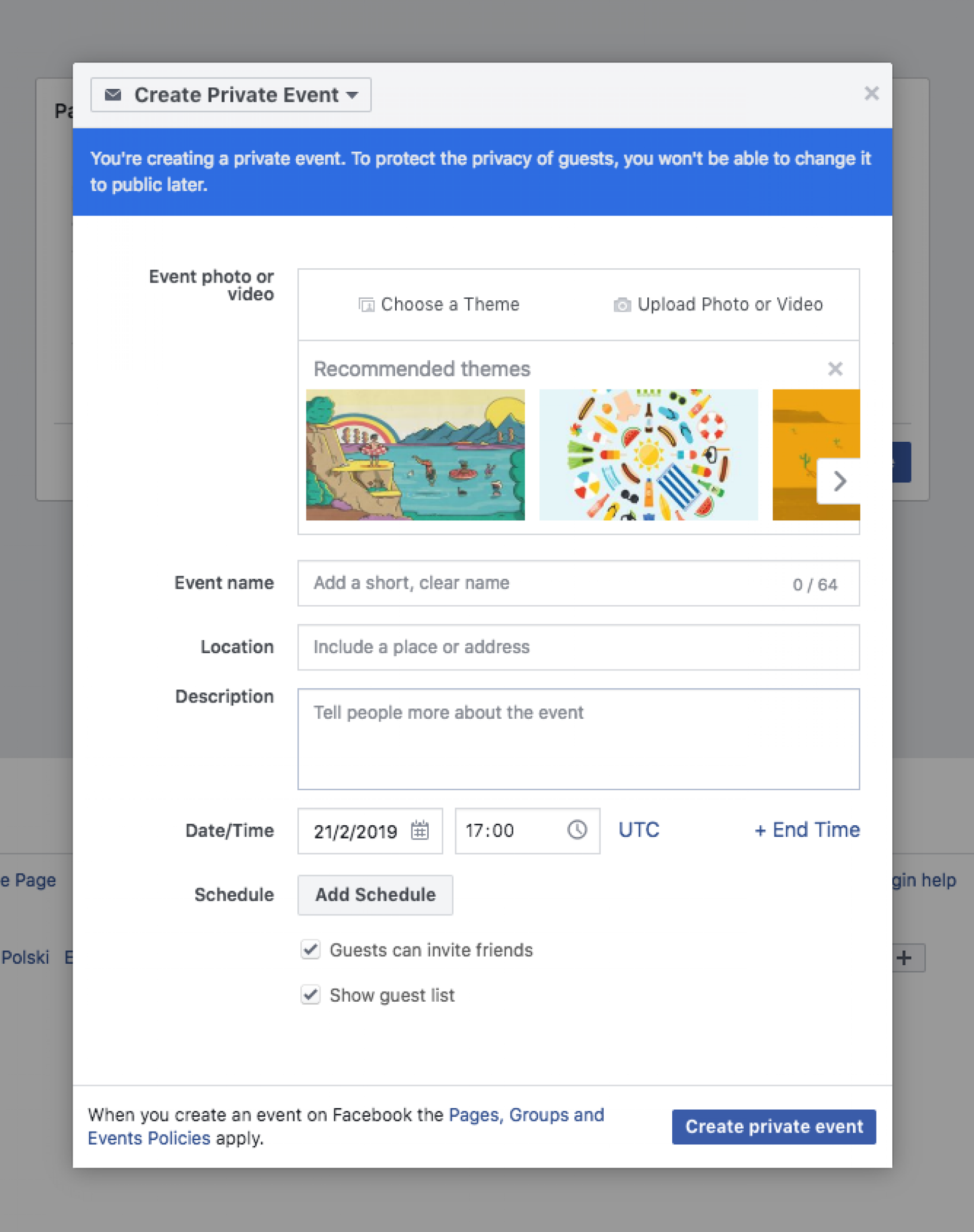 Creating event on Facebook - Source: Facebook
To get started, log into your Facebook account. Go to your Facebook business page, select Events in the left-hand menu, and click + Create Event. The next window will ask you to enter information such as:
Any co-hosts you want to share admin privileges with.
Two details to give extra attention are the event photo and description. These are the perfect opportunities to capture your audience and let your brand shine.
The event photo will be the primary visual on the event page, so choose one that is suitable and eye-catching. Facebook recommends sticking to 1920 x 1080 or 16:9 aspect ratio images for crisp resolution on both mobile and desktop. Similarly, think of the event description as your sales pitch. A winner will be easy to read, informative, and compelling. Once you've nailed these details, you're ready to Publish.
2. Get the word out
Every event that spreads like wildfire on social media begins with a spark. Or, more accurately, invitations to family and friends who might be interested. Next, share the event on your business page and ask your co-hosts to do the same. This tactic works best when co-hosts are organisations or public figures with their own Facebook followings. By kindling the interest of multiple groups at the same time, news about your event will travel further and faster.
Don't forget to jumpstart the promotion party on other social media websites too – Tweet a link to your event, put it on your Instagram story, and share it with your LinkedIn connections.
3. Ready to level up? Boost your event
A powerful resource for monitoring your event is the Insights feature. It displays timelines of the number of people who have viewed your event and the number who have responded, broken down by age, gender, and location. These analytics are incredibly valuable for developing your overall marketing strategy.
If you're ready to take your game to the next level, consider boosting your event. This can help increase responses (the Reach More People option) or ticket sales (the Increase Ticket Sales option) through targeting a specific demographic. One business that successfully used this recounts seeing a 61x return on their ad spend. To set up your own Facebook ad, click Boost Event on your event page, select an option, and choose your target audience.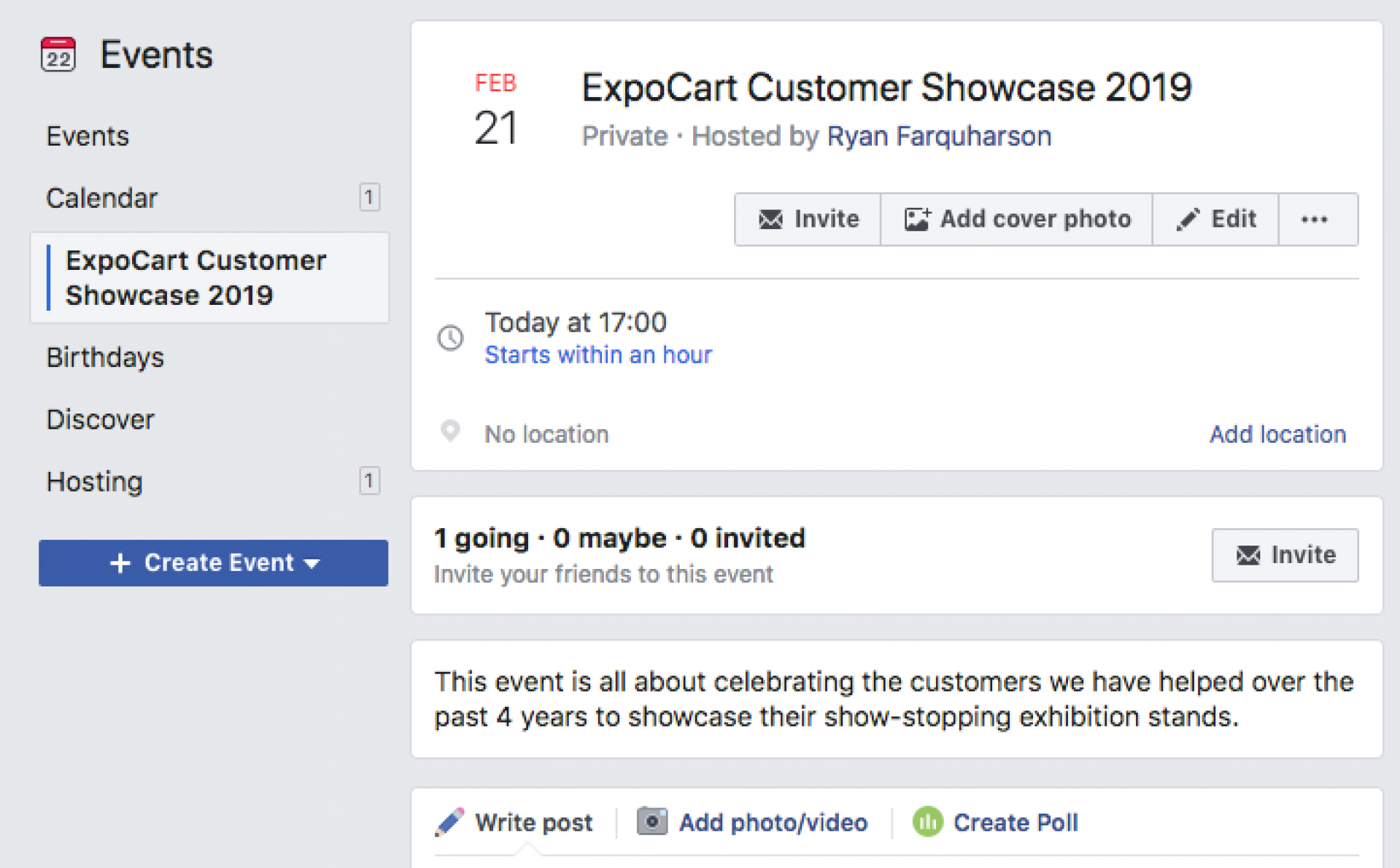 Event page - Source: Facebook
4. Build the hype
Stoke the fire by engaging your event audience on a regular basis. Want them to share what they're most excited about? Create a poll. Finished setting up the venue? Go live and show them how impressive it looks. Running out of tickets? Warn the fence-sitters that they better grab theirs before it's too late.
One tip from Facebook algorithm experts is to focus on connecting meaningfully with your audience. The more comments, shares, and reacts a post garners, the higher its chances of being selected to appear on News Feeds.
5. During the event, update your attendees
You've planned, you've prepared, and the day is finally here! Keep calm and post updates like a pro: announce the official event Twitter #hashtag, upload an image with directions for getting to the venue, and let your attendees know if there's been a change in the programme. The purpose of your event page today is simply to help attendees stay informed and have a smooth experience.
Want to see a step by step video tutorial, then check out this helpful video guide on how to create a facebook event.
It's time to organise that Facebook event
No matter what event you're planning, the UK's biggest social media website is a useful platform to be on. But what will help you distinguish your event from the crowd is knowing how to wield Facebook as an effective and sophisticated marketing tool.
For more advice, check out our guide on
How to Plan an Event
and
Top Event Planning Tips
.