To enable you to make the right choice for your event or exhibition, we've created a fabric display guide to bring together all the information you'll need to make the right choice for your business.
This guide includes the below topics:
What Are Fabric Display Stands?
Benefits of Using Fabric Display Stands
Types of Fabric Display Stands
Top Tips for Designing Your Fabric Display Stand
How to Care for Your Display Stand
Alternative Display Types
How to Set Up Fabric Displays
Need Help?
1. What Are Fabric Display Stands?
Fabric display stands, also known as fabric exhibition stands, are the perfect temporary solution for a wide range of professional locations. From exhibitions to conferences, customised fabric display stands promote your brand wherever you are and come in a large range of shapes and sizes to suit.
Easily stretched over and attached to a light-weight and durable aluminium frame, the fabric is printed in high-quality with your brand's promotional message. Fabric pop up display stands can be used for creating backdrops in exhibition areas, partitioning spaces, for use as a counter or point of sale, and for many other uses.
Fabric Hop Up Stands
Printed Fabric Displays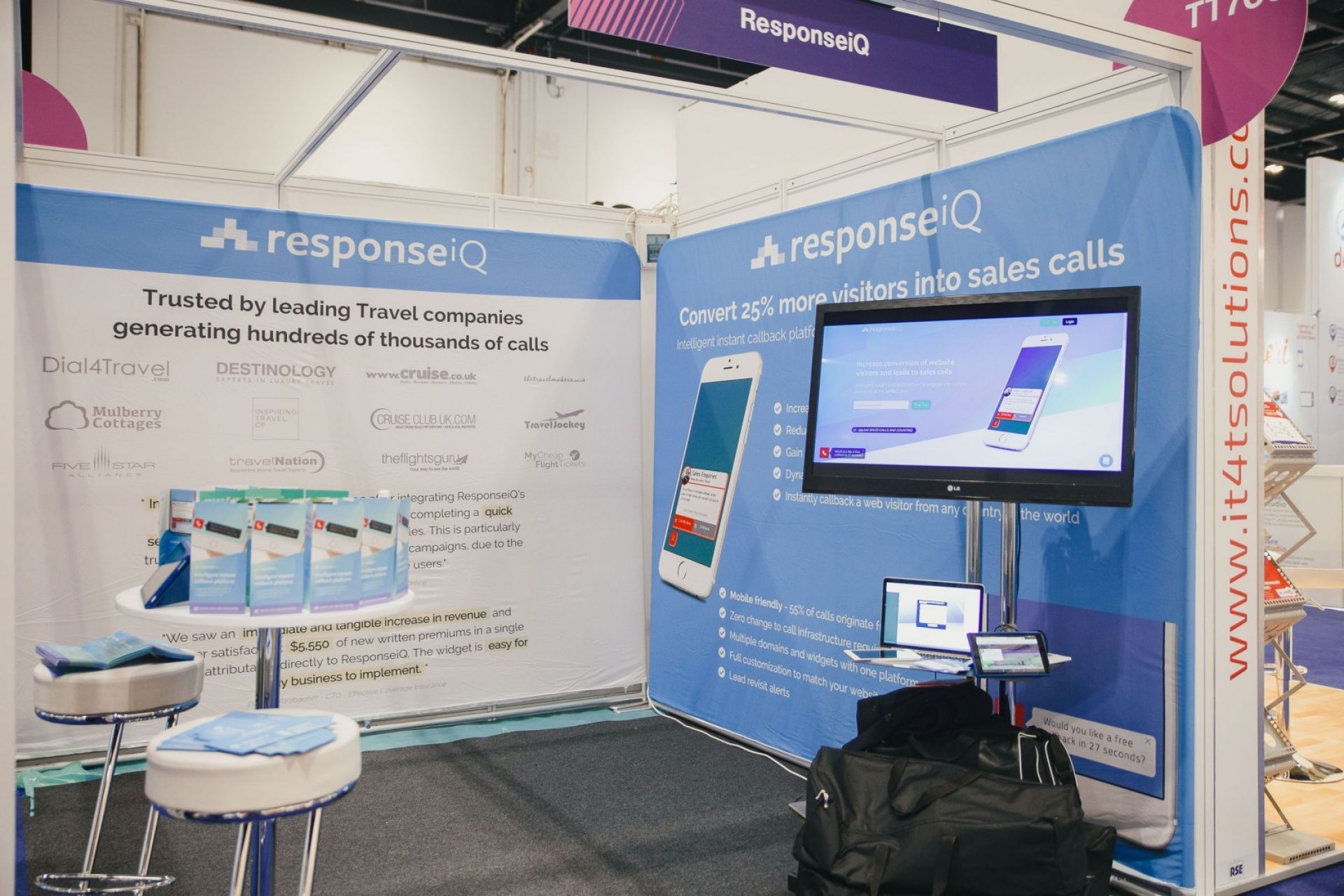 ResponseIQ's stand at Travel Technology Europe
2. Benefits of Using Fabric Display Stands
High Print Quality -
The graphics are printed using high quality dye sublimation printed which results in graphics that are of a photo-quality finish and has vivid colours. The graphics will come out sharper, crisper and more depth.
Seamless Visual Impact -
Fabric exhibition stands look fantastic for a multitude of reasons. Due to the high-quality fabric used and the exact fit of the frame, the displays are completely crease-free and have a frameless finish.
No Glare -
The fabric also ensures no glare in any light, which means they are always fully visible, a huge difference when compared to vinyl fabric displays. They are fantastic for any backdrops uses for photography as you won't get the reflection.
Portable -
Fabric display stands are not just portable but they're lightweight, easy to carry, assemble and take down, as well as being very easy and light to transport. They are a more portable display solution compared to other display stands including pop up stands because of their slim profile and lightweight aluminium frame. In addition, the fabric graphics can be folded away into a small carry bag so you don't need to invest money into logistics to transport your display.
Variety -
Fabric displays can be used in a variety of different locations and settings again and again, making them fantastic value for the investment. You couldn't wish for more choice when it comes to signage when looking at fabric display stands. With a huge selection of shapes and sizes, plus the ability for completely personalised printing in high definition, there's a choice that is perfect for every brand and event.
Where can fabric displays be used? -
Shopping centres
Award shows
Exhibitions & trade shows
Events
Conferences
Offices
Hotel lobbies
Reception areas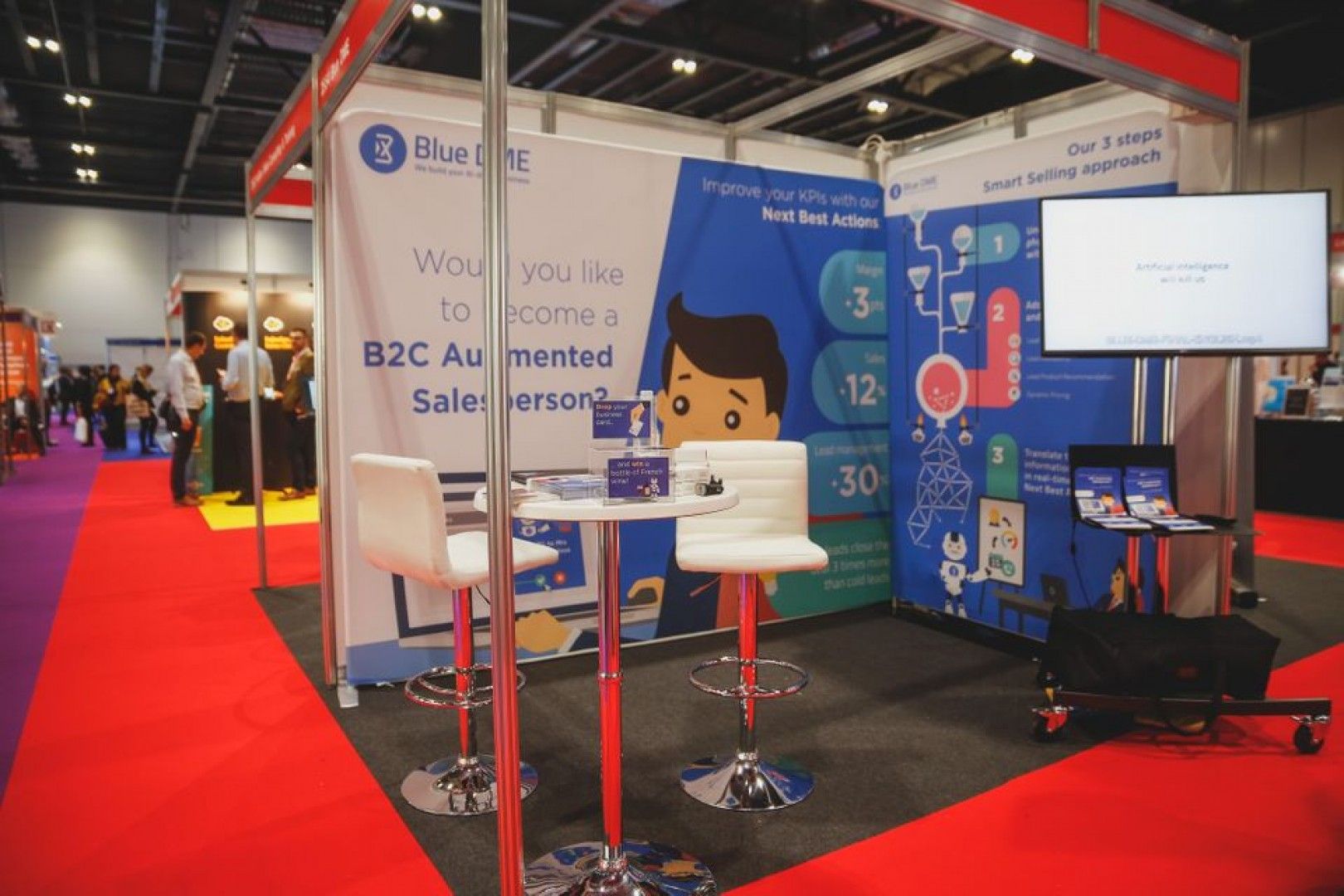 Create an eye catching exhibition stand
Small Footprint -
With their slim profile, fabric display stands take up less space than other promotional displays so they are incredibly space saving on exhibition shell scheme stands where space is important!
Effortless Assembly -
With no tools required and simple instructions to follow, each fabric display will only require one person to set up the display. With our videos and set up instructions on the product page, you can set up your display stand in no time!
Changing graphics is easy -
Like it says on the tin, changing graphics is effortless so if you want to update your branding or messaging you can do so by simply purchasing a replacement graphic, saving you time and money without having to buy a brand new display.
Machine washable -
All of our fabric graphics are machine washable at 30 degrees so if you want to give you graphics a clean you can do so without damaging the graphics or having to buy a new one.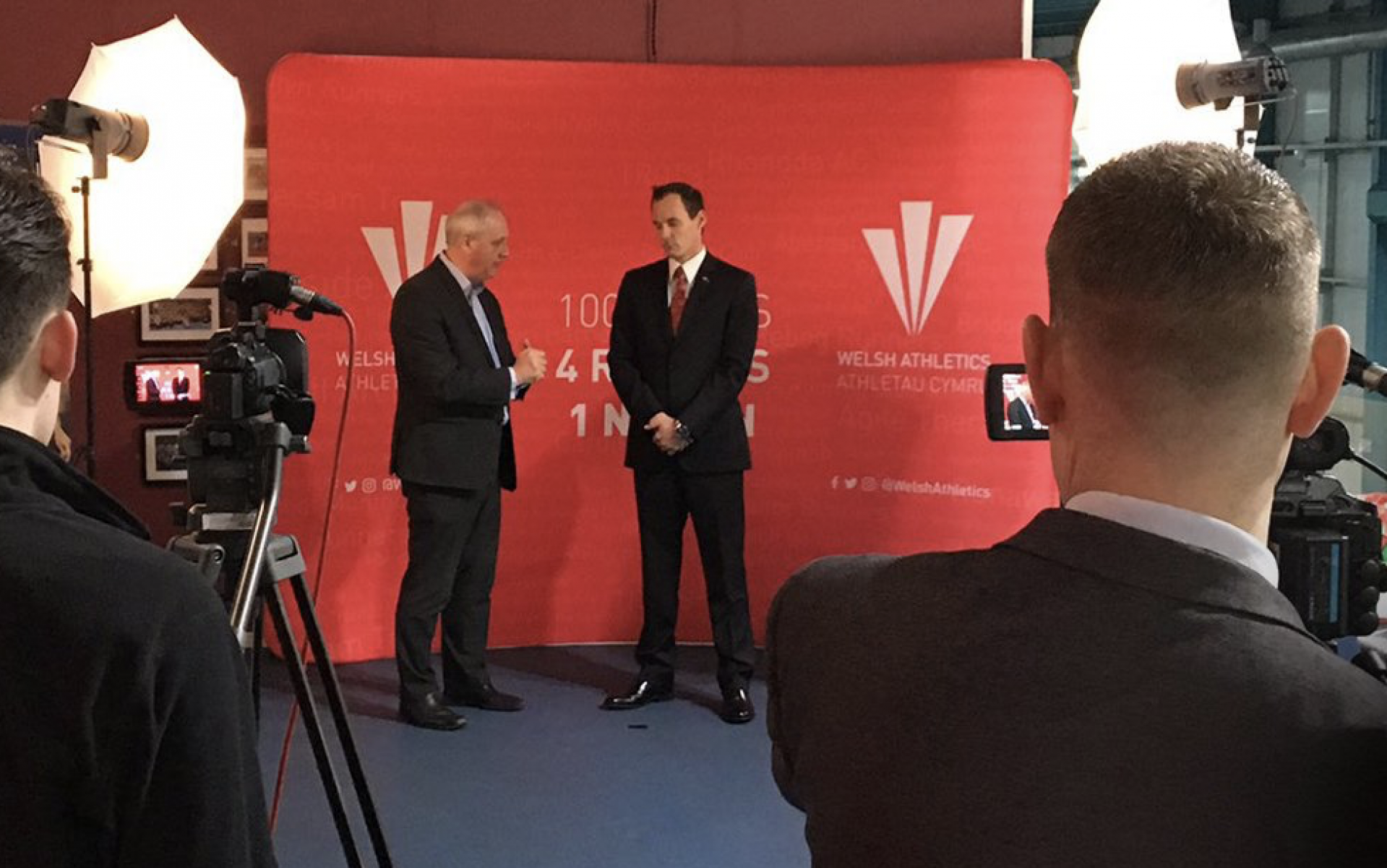 Striking Curved Fabric Display Stand
3. Types of Fabric Display Stands
Here, we'll take a look at the types of fabric display stands available at ExpoCart.
Fabric Exhibition Walls -
All of our fabric graphics are machine washable at 30 degrees so if you want to give you graphics a clean you can do so without damaging the graphics or having to buy a new one.
Fabric Snake Stands -
Give your brand's area an interesting twist with a curved fabric snake stand in five snake-like designs and shapes.
Fabric Promotional Counters -
Create a branded table top with a fabric promotional counter, available in sizes and shapes to suit every display.
Fabric Flags -
In a range of sizes and shapes, see the ExpoCart range of fabric flags, perfect to direct customers to your location or even carry with you on-the-go.
Fabric iPad Stands -
Make the most of technology on your exhibition stand and integrate it into your branding with a fabric iPad stand, complete with leaflet and magazine-holding framework.
Fabric Pop Up Stand -
Helping you create backdrops at any event for your brand, fabric pop up stands drive high impact results, available in both straight and curved options.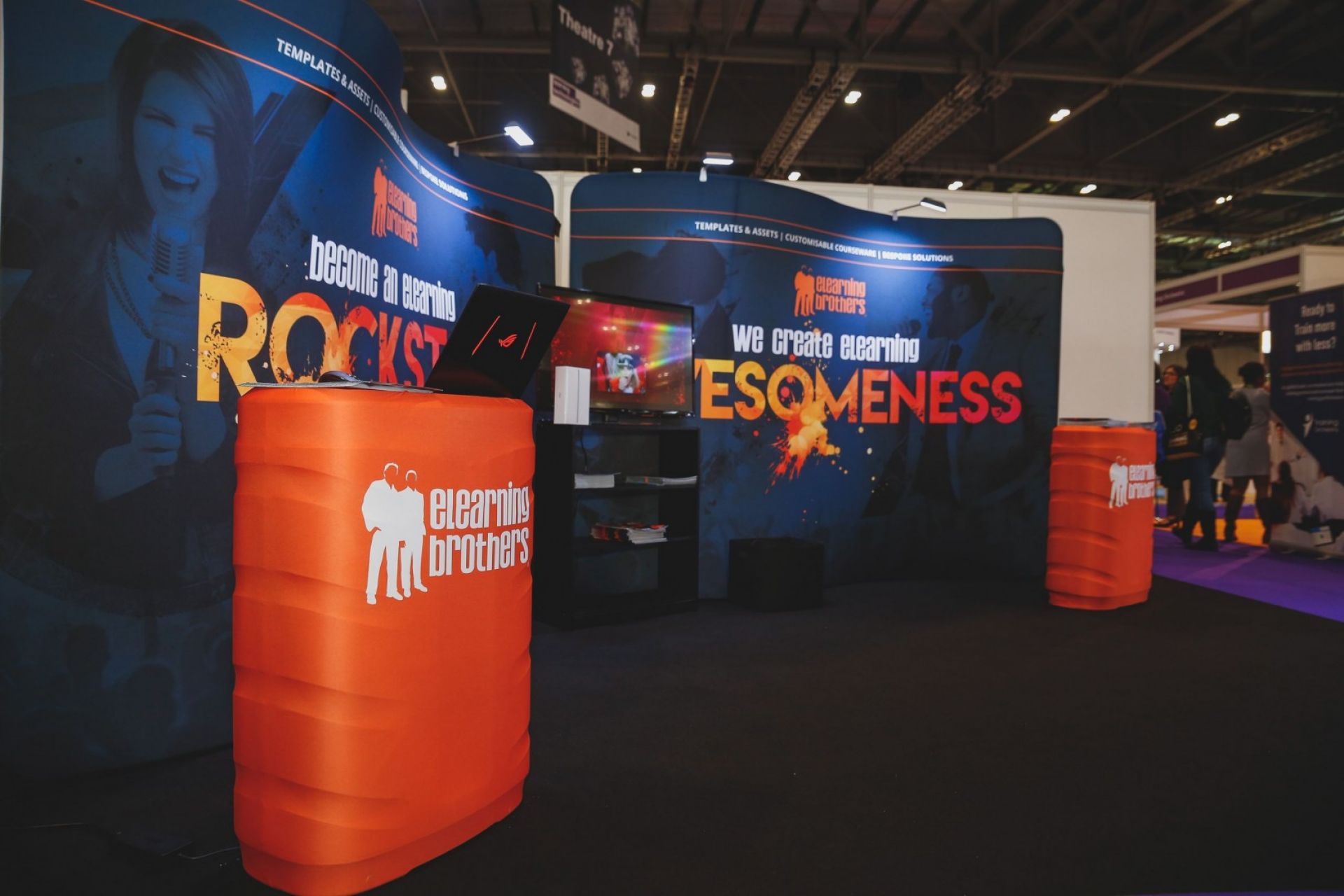 Large exhibition stand that uses fabric displays
4. Top Tips for Designing Your Fabric Display Stand
At ExpoCart, you'll find handy, easy-to-use artwork templates for each of the fabric display stands in the collection. Alongside the templates, you can find artwork checklists and guidelines, making the process straightforward and clear from start to finish without any graphic design experience necessary.
Here are a few top tips from the guidelines:
Remember to plan the print for the back of your fabric display stand if you have selected a double-sided product
File formats should be high-resolution PDF or EPS only
Duplicate your file before you flatten the layers to ensure you can go back and edit.
Some files require a bleed. Remember to check on the product you have selected for specific artwork guidelines.
If you need additional help with the design and layout of your displays, get in touch with the ExpoCart team and we'll be more than happy to assist.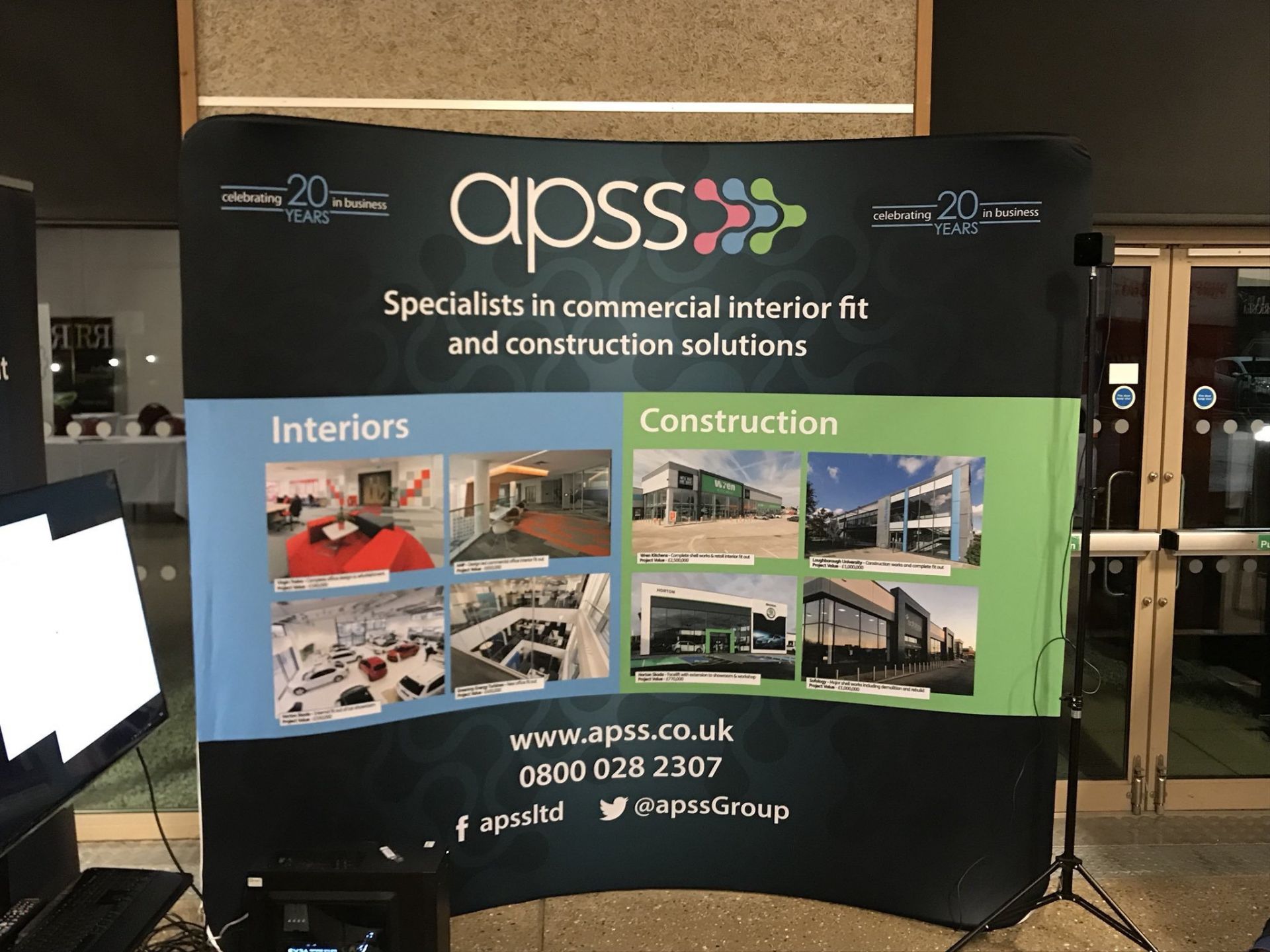 Clear, simple messaging
5. Top Tips for Designing Your Fabric Display Stand
All ExpoCart fabric display stands are built to last with durable frames and high-quality fabric. All fabric is also washable, meaning if your sign becomes dirty or has been used outdoors and requires refreshing, this can be done with ease. However, there are several additional things you can do to ensure you keep your display fabric at its best for as long as possible.
Properly pack away your fabric display after use to ensure it is kept as clean as possible.
Always ensure to line up the seams of the fabric display with the edges of the framework to avoid tears due to strain on the fabric.
Duplicate your file before you flatten the layers to ensure you can go back and edit.
Ensure you put your frame together correctly every time to ensure you don't bend or twist the frame pieces.
6. Alternative Display Types
Fabric exhibition stands are a fantastic option for businesses who promote outside of their company environment. However, this isn't your only option when it comes to temporary signage.
Let's take a quick look at some popular alternatives.
Banner Stands -
Roller banners
and
tension banners
are great choices for smaller exhibition stands or promotional areas.
Pop Up Stands -
Pop up stands
give your brand high impact promotional materials in both curved and straight options in large scale.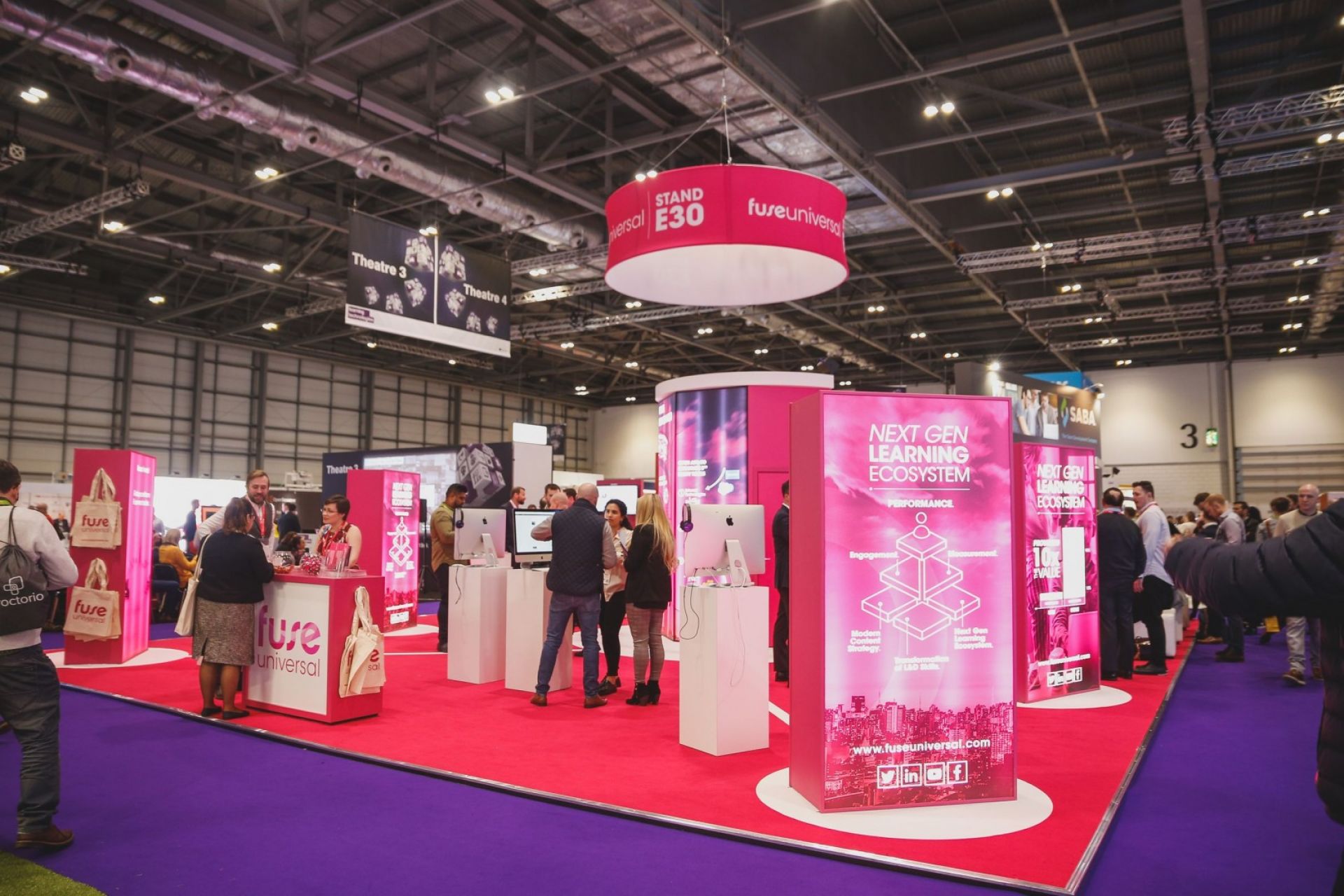 S-shape display stands
7. Alternative Display Types
Every fabric display stand is designed to be quick and easy for anyone to assemble in just a few short minutes. Step one involves piecing together the frame, while step two is simply sliding the fabric display over the frame and securing with a zip at the base.
At ExpoCart, we have an assembly video on each of our product pages. So, from Snake Fabric Display Stands to large scale Straight Fabric Displays, you can see how straightforward the assembly of each item is before purchasing.
8. Need any Help?
If a fabric exhibition stand sounds like just the thing your company is missing from its promotional materials, get in touch with ExpoCart and we can help.
From advising on the exact fabric stand for you to expert help with the design, find out more about ExpoCart or simply give us a call or email and we'd love to offer our advice.