This guide was built to make choosing, designing and using pop up stands quick and easy. From the top benefits of ExpoCart's range to the best ways to design your own displays, we've collated all the information you're going to need.
If you'd like personalised advice or expert help with any of the ExpoCart pop up banners or stands,
get in touch here.
This guide includes the below topics:
What Is a Pop Up Stand?
Why Use Pop Up Stands?
How to Look After Your Display
Alternative Display Types
Top Tips for Designing Your Pop Up Stand
How to Set Up Pop Up Displays
Need Help?
1. What is a Pop Up Stand?
Pop up stands
, which are also known as pop up banners, are promotional displays used in exhibitions, conferences and more by businesses seeking to promote and advertise their brand. These are usually used in a temporary or on-the-go location or environment.
Pop Up Stands are also commonly known as:
Pop Up Exhibition Displays
A pop up stand consists of an easy-to-assemble aluminium frame, which is then paired with a printed graphic, which attaches to the frame with magnetic strips. This wraps the stand to create a high impact backdrop.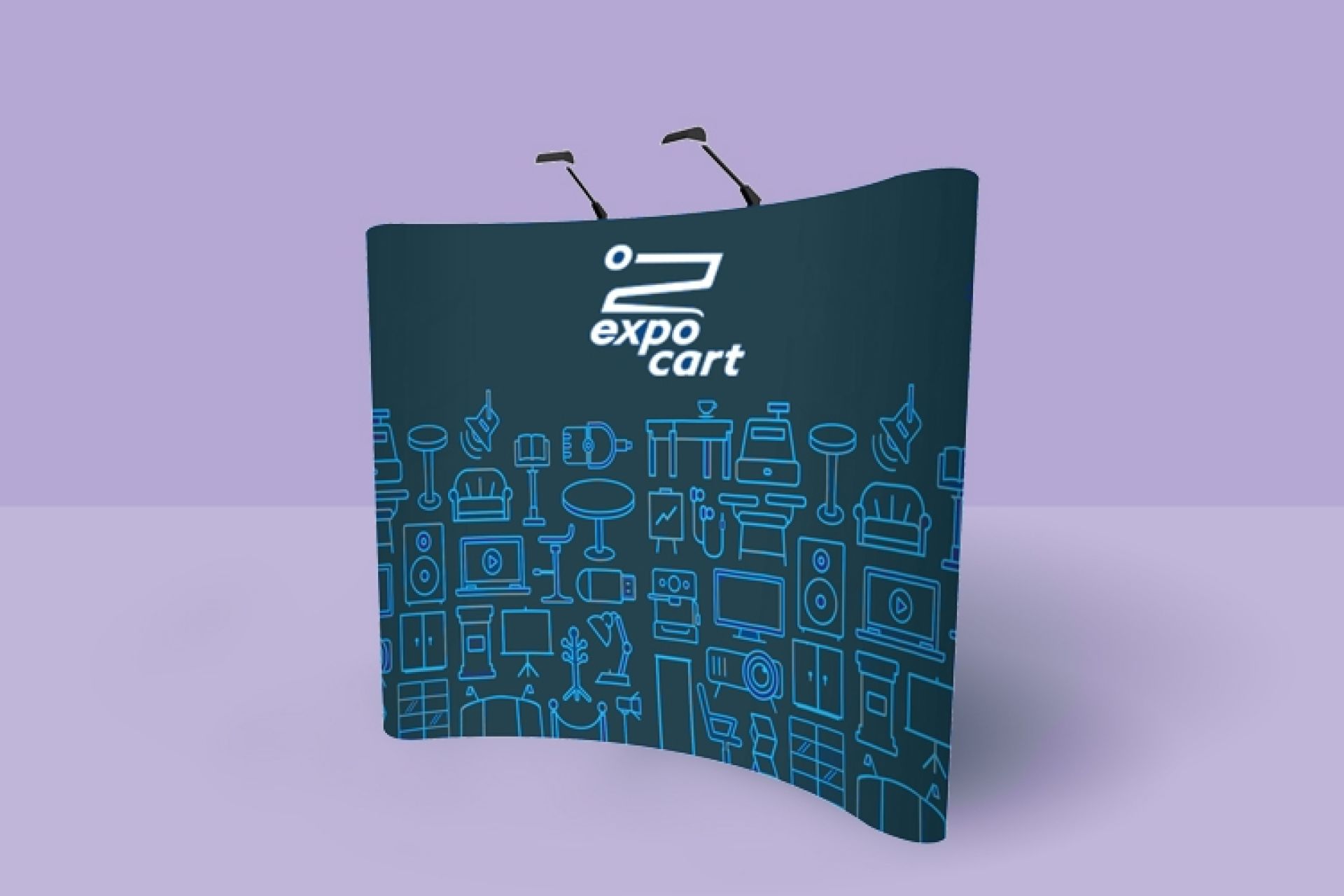 An example of an ExpoCart pop up stand
2. Why Use Pop Up Stands?
There are many benefits to using pop up display stands for your business, let's take a look at the biggest reasons why you should consider these fabulous stands.
High Visual Impact
Catching the eyes of fellow exhibitors and visitors is critical at an exhibition where other stands are competing for visitors' attention so a large visual display is key for quickly showcasing what your company does.
Our range of pop up stands provide a high-quality finish to create a fully branded space in the largest of exhibition venues and these display stands certainly help create that professional image. With rich, high-resolution imagery and branding available, your company can impress potential clients with a luxe stand that is ready to do business.
Pop up stands, because of their size can fit inside shell scheme stands as well as space only exhibition stands so we definitely recommend opting for a double sided display.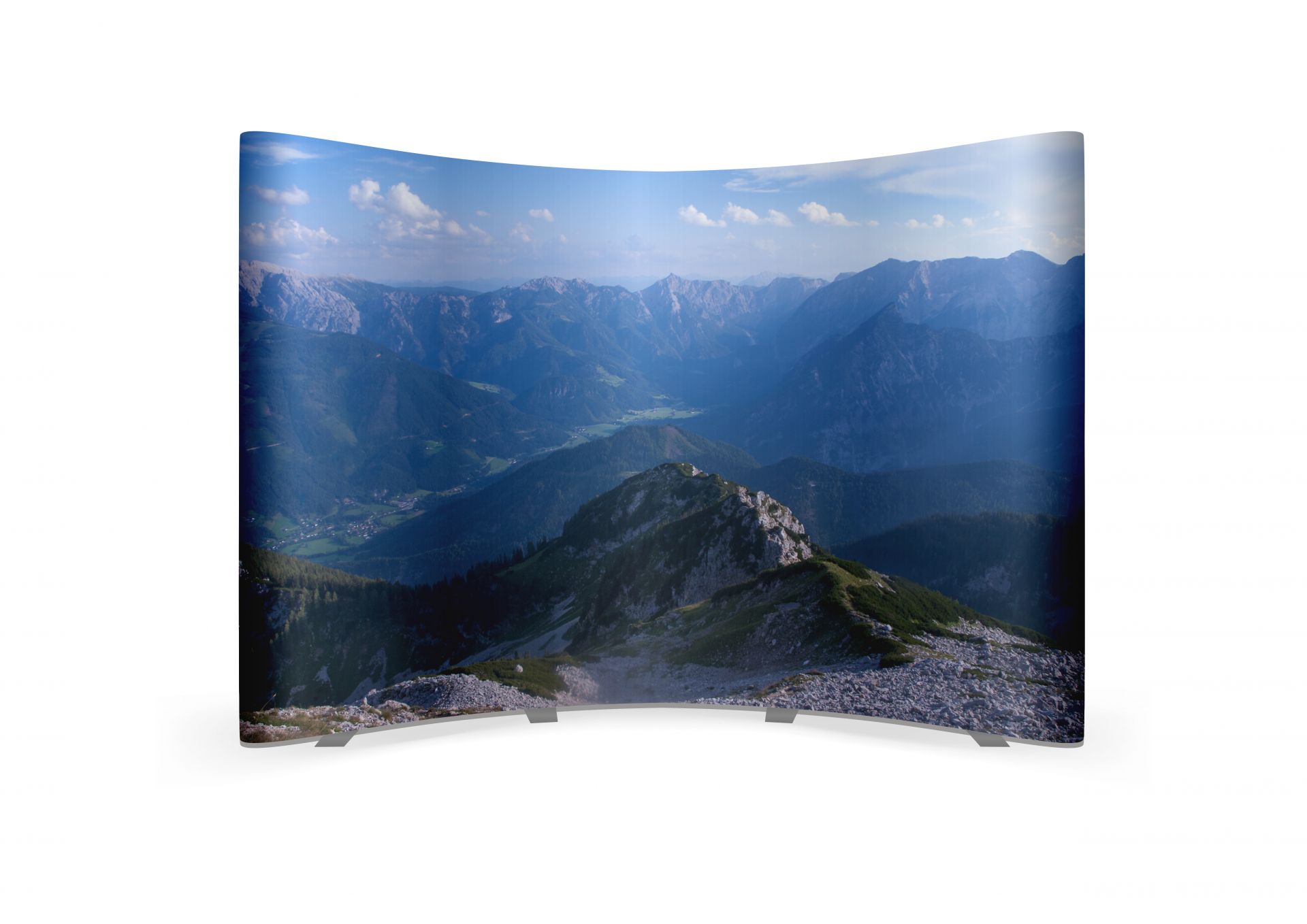 Vibrant pop up display
Easy Assembly
Pop up stands are incredibly easy to set up simply because the aluminium frame opens up hence the name pop up and our range at ExpoCart comes with self-locking smart magnetic arms which keep the frame sturdy and means it only takes one person to assemble the stand.
Creating such a professional space in just a few short minutes makes pop up stands one of the most popular products for businesses who exhibit.
Quick to set up and take down, you are left to focus on preparing your sales pitch and getting ready to meet your new client contacts.
Large Choice
With a wide range of choices in terms of size and shape, you can create the exact exhibition space you envisage with the use of pop up display stands.
We even offer a bespoke service so if you require a different size or shape, we may be able to accommodate your request.
Our pop up stands are available in the following options:
Shape: Straight or Curved Sizes: 3x1, 3x2, 3x3, 3x4, 3x5
Print : Single sided or double sided print available
Packages:
Frame, graphics, wheeled case
Frame, graphics, lights, counter, counter top, counter graphic wrap
Easy to transport
Our range of pop up stands can fold away into a sturdy wheeled carry case which can be used to transport your display via public transport and can fit comfortably inside a car.
The wheeled carry case can also be branded with your company graphics so it can double up as a branded promotional counter, saving you money and storage!
Storage
Talking of storage, the handy wheeled case is the perfect storage to store away your pop up stand as it will take up very little space.
Durable
Our range of pop up stands are a high quality display solution and are quality assured and tested by our team so they are built to last a number of years.
However, many displays are often susceptible to a little damage or wear and tear if left in venues unattended or if the graphics are not handled in the right way.
Providing your branded message isn't out of date and is consistent with your brand then you shouldn't have any problems reusing the display time and time again which is great value for money.
Refresh your branding
The great thing about pop up stands is that you can easily replace the graphics if you need to update your branding or refresh your messaging rather than spending lots of money buying a brand new stand.
3. How to Look After Your Display
Pop up display stands are designed to be long-lasting and durable for use time and time again. However, to make the most out of your stand and keep it looking brand new for every use, there are several ways you can look after your stand long term.
Top tips to look after your display:
Always pack away your pop up stand properly and make use of the carry case when not in use to keep it safe and clean for its next exhibit
Ensure you pack away your graphic panels with the image facing outwards to avoid damage.
In the event that you need to clean your graphics, gently wipe with a damp cloth, taking special care towards the edges.
4. Alternative Display Types
Aiming to provide brands with the perfect signage solution for every situation, there are several key pop up stand alternatives worth researching. Whether you're looking for large scale exhibition installations or smaller and portable on-the-go promotional prints for outdoor events, there is a display stand designed to suit at ExpoCart.
Here are some key alternatives for pop up stands.
Fabric Exhibition Walls -
Create complete walls surrounding your exhibition stand to fully immerse your customer in your company's branding.
Fabric Snake Stands -
If smaller branding is what you're looking for, ExpoCart's range of fabric snake stands offer an alternative option fit for any space. Choose from a range of shapes and customise with your own printed company branding on both sides of the stand.
Fabric Promotional Counters -
To use your exhibition space in the best way possible, create a tabletop area with a fabric promotional counter, complete with fully customised company branding.
Fabric Flags -
Fabric flags are an ideal solution for many indoor and outdoor events. Use them outside an exhibition or store to direct potential customers to your location or even use them on the move, connected to a backpack for the latest in on-the-go promotion.
Fabric iPad Stands -
Fabric iPad stands are a pop up display perfect if you tend to use iPad technology throughout your client pitch. Attach your company iPad to a fully customised iPad stand with your branding and promotional slogans and transform your exhibition space in an instant.
Fabric Pop Up Stands -
ExpoCart has also designed a huge range of alternative fabric pop up display stands for businesses needing to promote their companies indoors and out. From semi-circle stands to separate spaces within a stand area to pop out banners, let ExpoCart find the perfect solution for your needs.
5. Top Tips for Designing Your Pop Up Stand
At ExpoCart, we want to make every step of creating your own pop up stand quick and easy. Therefore, each stand's artwork guidelines and templates are provided on every product page, helping you through the process from start to finish.
When creating your display stand, remember the following guidelines:
All files should be in PDF high quality or EPS.
Some stands files will require a bleed, so always ensure to strictly follow the guidelines on your specific product.
When designing your stand, follow our top tips for the most impactful pop stand display.
Focus on your logo and keep it bold and highly visible towards the top.
Only use images if the resolution and quality is extremely high.
Consider the entire spacing on the display from top to bottom and left to right.
6. How to Set Up Pop Up Displays
Pop up stands are designed to make exhibiting and creating a professional space quick, easy and streamlined. This is why the set-up process for all pop up banners and stands had to be simple and possible for anyone to do in just a few short minutes. To show how quick and straightforward setting up any of ExpoCart's pop up display stands really is, you can view a short assembly video on each product page.
The step by step process goes as follows:
Erect the concertina aluminium frame and click into place.
Unroll the graphics and hook onto the concertina frame.
Smooth your graphics onto the magnetic stripes, one panel at a time.
Complete with optional lighting and package extras.
7. Need Help?
If you're planning to head to an exhibition, attend an important conference or pitch at a key business event this year, a pop up stand or collection of pop up stands is vital.
Promoting your business and giving your brand a professional aesthetic, pop up stands are a fundamental investment for brands with something to say.
If you're not sure which stand is right for your event and need a touch of expert advice, get in touch with the team at ExpoCart and we'll be happy to offer our assistance and experience.