So we're very much guilty of using lots of events-industry jargon and forgetting to explain ourselves (apologies!). But fear not, we've explained all the confusing phrases you'll come across in the process of exhibiting below, so you can join the conversation and be fully informed when talking to your exhibition contacts. You'll be talking like one of us in no time!
"Shell schemes"
(Almost) All trade exhibitions will have at least one section comprised of
shell scheme stands
. These are the booths built in rows and small groups by the official show contractor, varying in size from 1x1m booths all the way up to 8x8m and even larger. A 2x1m stand will have two long edges – usually the width measurement – of 2m and two shorter lengths of 1m – the depth of the stand. A shell scheme stand comprises of a number of walls (usually around 2.5m tall), between one and three walls, so your stand might have just one open side, or could be completely open with just one back wall dividing your stand from that of your neighbour. For any side which doesn't have a wall, you'll have a frame giving stability to the overall structure. Each shell scheme stand also comes with carpet. You're free to place whatever equipment within your shell scheme space you desire, so long as the equipment doesn't spill outside the perimeter or extend above the height of your walls. You can even (in most cases) stick
shell scheme graphics
onto your walls to help you stand out from your next door neighbours.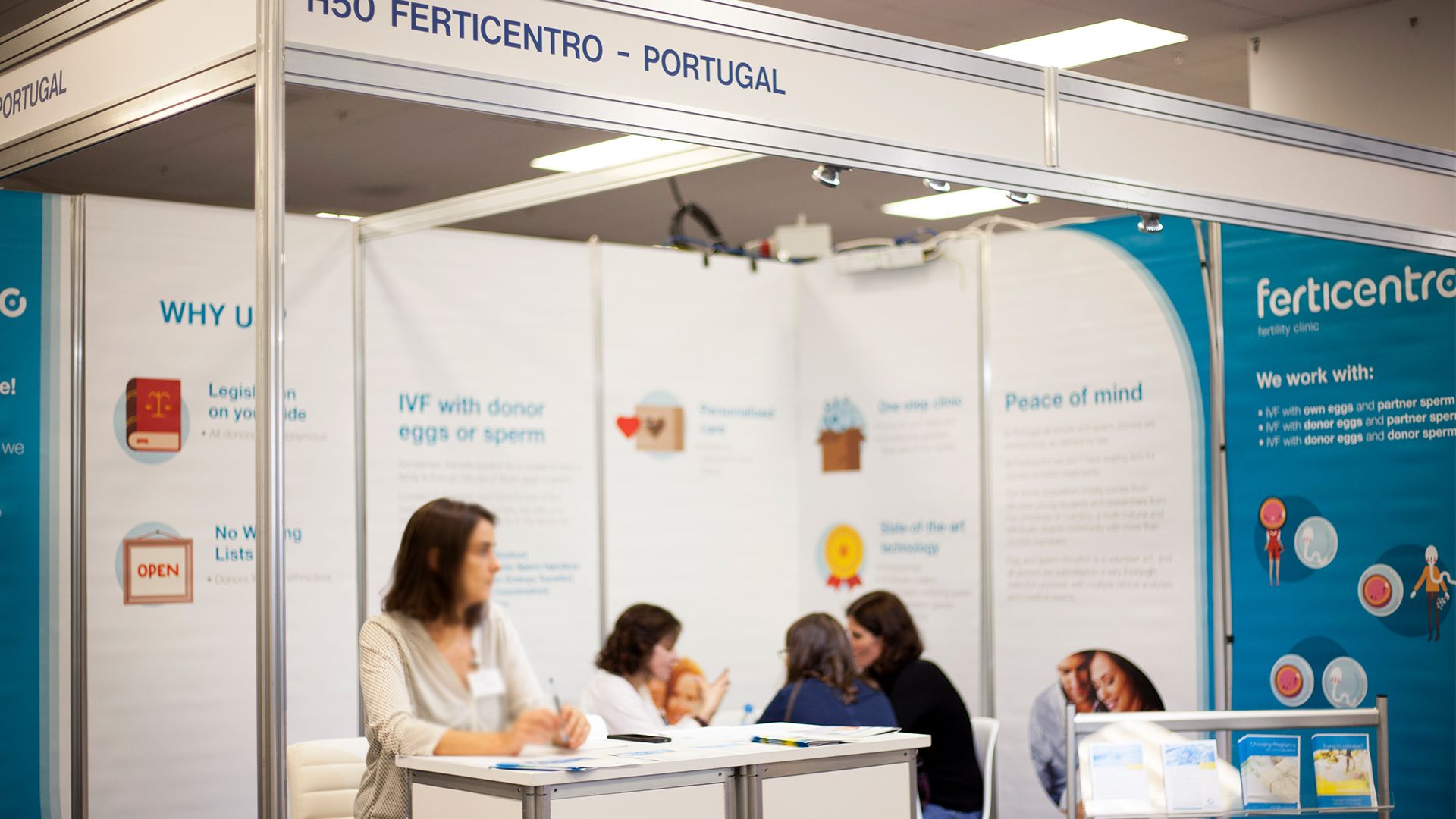 A typical shell scheme stand, with two open sides and a fascia board running around the top
"Fascia boards"
The fascia/header boards run around the top of the frame of your shell scheme on all your open sides and note your company name and the number of your stand, so that you and your visitors can easily find your stand in the busy exhibition hall. So if you have a stand with two shell scheme walls you'll also have two header boards, on the sides without walls, or if you have three walls, you'll just have one header board, across the one open side.
"Stand build"
The alternative to a shell scheme exhibition stand is to purchase a space only stand. This is just as it sounds; a patch of ground at the exhibition hall and nothing more. Space only stands entail that the exhibitor isn't confined within a booth, so many choose to build purpose-built, unique structures on their patch of land. These structures are called stand builds. A rigorous design process will precede the event, and then your chosen stand building company will come to the exhibition before it opens, build your structure for you, and then dismantle this after the show closes on the final day. The main benefits of stand builds are that they can be designed to fit your unique purpose at the exhibition and that they stand out amongst smaller, uniform shell scheme stands.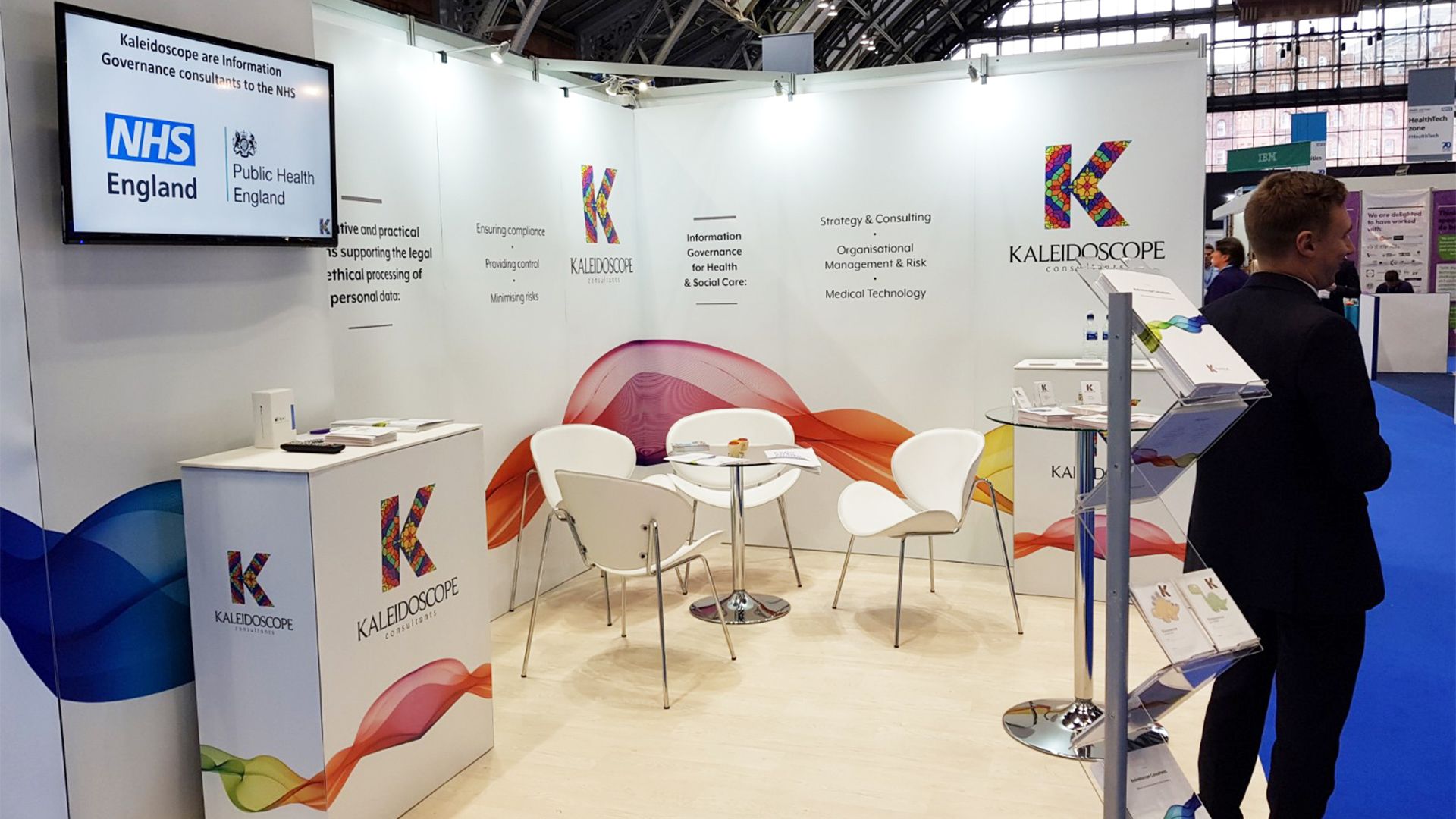 Modular Stand for Kaleidoscope Consultants
"Modular stands/stand make-overs"
Modular stands
are a way of transforming your shell scheme area into a stand that looks like a stand build. They are individual panels which fit together and can be rearranged to give a unique shape or design to your stand – they can also serve as additional walls as well as being able to hold
TV screens
and shelves hung from them.
"Set up day"
Most exhibitions have one set up day, the day before the exhibition opens to the public. Some larger exhibitions have two or even more set up days, with different exhibitors being allowed to set up each day – this is to help control the movement of people and vehicles in and out of the loading areas and within the exhibition hall. Shell schemes (and usually stand builds) will be built in one of the earlier slots, allowing you to come in to take equipment deliveries and dress your stand for the rest of the day.
"Breakdown"
Don't worry, we won't break anything (on purpose!). The breakdown is just the name for the few hours following an exhibition when you'll need to pack up your equipment, and suppliers will come in to collect any items you've hired for the show. Occasionally this process goes on during the following day, especially if the exhibition closes late in the evening, but most often the halls will be completely cleared the same day.
"Barcode scanner"
More and more exhibition organisers are introducing barcode scanners as a lead sourcing option for their exhibitors. In essence, when a visitor signs up to attend the exhibition they'll be given a ticket with a barcode on it. If you hire a barcode scanner from the exhibition organiser then you'll be able to scan the barcodes on your visitors' tickets which will take their details and contribute these to a database of leads, which you'll have access to after the show closes. This is a great way to quickly get the details of your visitors, without them having to enter their details manually at every
exhibition stand
, or handing over business cards which are easily misplaced.
"Corkage fees"
Some exhibition organisers will need to charge you a fee to give away free food and drink on your stand as you'll need to be registered under their licence – this applies to not just alcoholic or hot beverages, but sometimes all food and drink items.
"Reinforced walls"
If you want to hang a TV or shelves from your shell scheme walls then you'll need to order a reinforced wall with the event organiser. A reinforced wall has an additional wood or metal panel within it, strengthening the structure and allowing it to take the weight of the TV or goods placed on your walls.
"Foamex & PVC"
These are the most popular types of printing you can add to your shell scheme walls. The names refer to the materials your graphics are printed onto.
Foamex panels
are rigid and have great printing quality, but are brittle so can only be used at one exhibition stand and not reused at your next show.
PVC panels
are much more malleable so can be taken down and re-installed at your next exhibition.
We hope this guide will help you navigate the exhibition world, but if you're still left in the dark do get in contact, we'd be more than happy to help.