When you
hire an iZettle card reader
, you can take card payments instantly in any location and without a merchant number. Just download the app, connect your device and start taking payments.
Here, we look at the benefits of iZettle readers and how quick and easy it is to set the process up for yourself.
What Are the Benefits of iZettle Card Readers?
Why hire an iZettle card reader? Let's take a quick look at some of the key benefits of iZettle hire to enable you to work out if hiring is the right choice for you.
Accept Card Over Cash Wherever You Are
Sound obvious? But think, imagine not having to hope that exhibit attendees and visitors to your stand have cash on them to get a sale right there and then. Using iZettle card readers means you can accept card payments wherever you are, which means you'll never miss out on that all-important sale.
Instant Payment & Professional Receipts
iZettle hire payments are instant and with a quick and seamless process, you'll have clients deciding and paying in the blink of an eye. Although you can send instant and professionally rendered email and text message receipts following each transaction, you can also team your reader up with a Bluetooth receipt printer to give your customers complete reassurance in seconds.
Go Ahead without A Merchant Number
Other payment schemes and processes require businesses and sole traders to apply for and produce a merchant account number to be able to start taking payments. With iZettle, it's instant and easy to set up and you can do all this without the need for a merchant number.
Create a Product Library in the iZettle App
A great feature of the iZettle app is the capability of adding your products into a library for even quicker and more seamless transactions at your event.
Fast Deposit Times
Where many other payment devices can take days to deposit your transaction money into your bank account, iZettle deposits your money in 1-2 days as one of the fastest processes in the industry.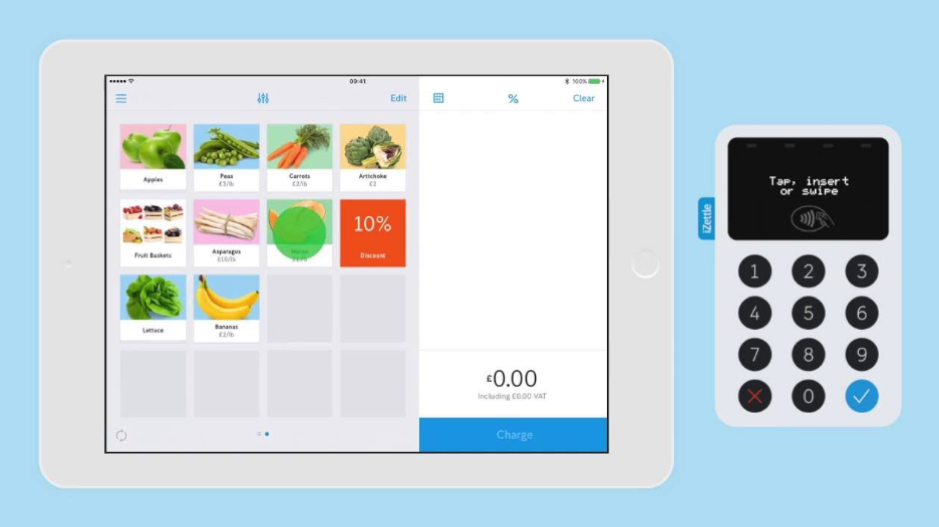 iZettle card reader with iPad
Which Cards Are Accepted With iZettle?
With Visa and Mastercard, Maestro and American Express credit and debit cards accepted with your iZettle card reader, as well as contactless and Apple and Samsung Pay, you'll be able to take payments at your next exhibition or event, never missing out on a sale.
How to Set Up and Use An iZettle Card Reader
Setting up and using an iZettle card reader couldn't be easier. We created a blog all about
how to set up and use an iZettle device
in lots of detail and we've listed the key points directly below.
Once ordered, download the iZettle app onto your phone or device and create an account. Add your banking details when prompted
Connect the reader to your app through the simple step by step settings
Connect your receipt printer if you have chosen this option
Add your products to your app if you choose (you do not have to do this step)
Start taking payments quickly and seamlessly wherever you are, on-the-go
Check out this helpful video from iZettle on how to connect and take payments with the iZettle reader:
Most Common Questions About iZettle Rental
Here, we've put together some of the most asked questions regarding hiring iZettle card readers to make it easy and simple for you to find the information you need.
Do you need a UK merchant account/number?
No, when it comes to using iZettle, you don't need a merchant number. You simply need to connect a bank account and you can begin to accept payments instantly.
How do I print receipts?
If you want the option of printed receipts alongside text and email receipts with your iZettle rental, you can also hire an iZettle receipt printer, which connects via Bluetooth.
What are the transaction fees?
Transaction fees for iZettle are 1.75% of the transaction value with zero monthly costs or subscription fees.
How long does the battery last?
Your iZettle will last up to 8 hours or approximately 100 transactions before it needs charging by USB.
What is the minimum transaction amount?
The minimum amount for an individual transaction your iZettle is £1.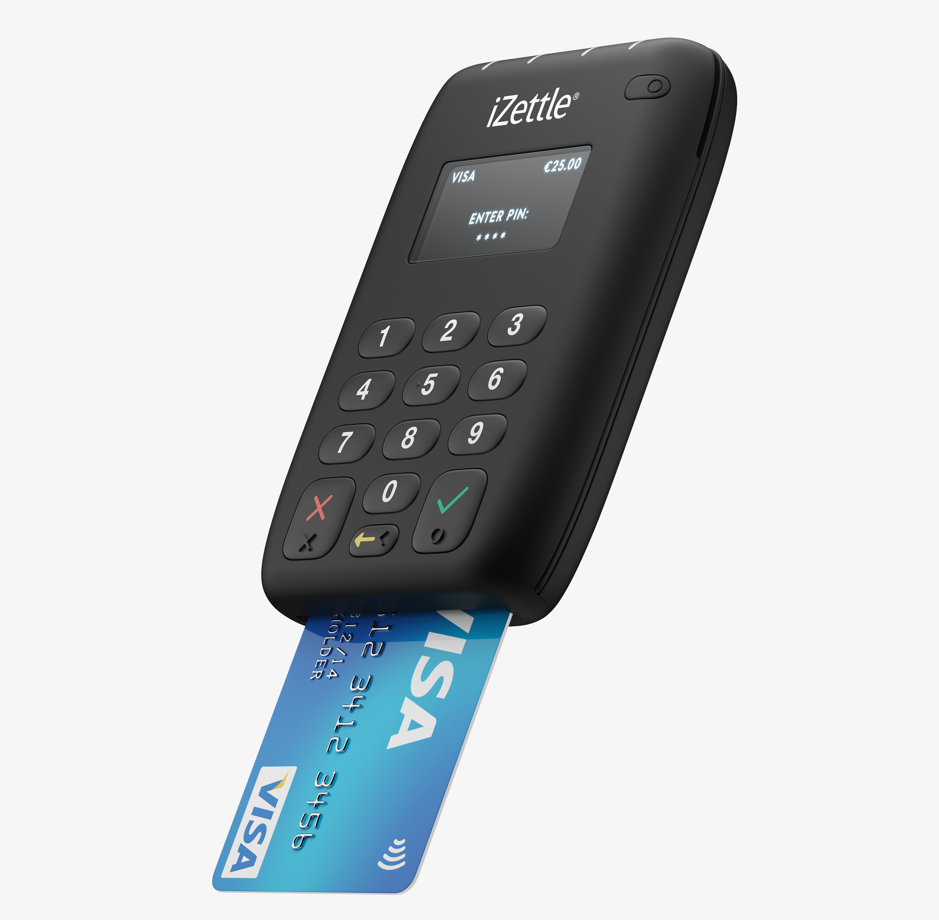 iZettle card reader
Never miss out on a sale again with quick and easy on-the-go payments when you hire an iZettle card reader from ExpoCart. Get in touch if you have any questions and we'd love to help.