Mannequins come in many forms and the decision about which mannequins suit your brand the best might seem overwhelming. So, we've put together this guide to lay out why
mannequin hire
can benefit your brand and the many
types of mannequins
available to rent, here at ExpoCart.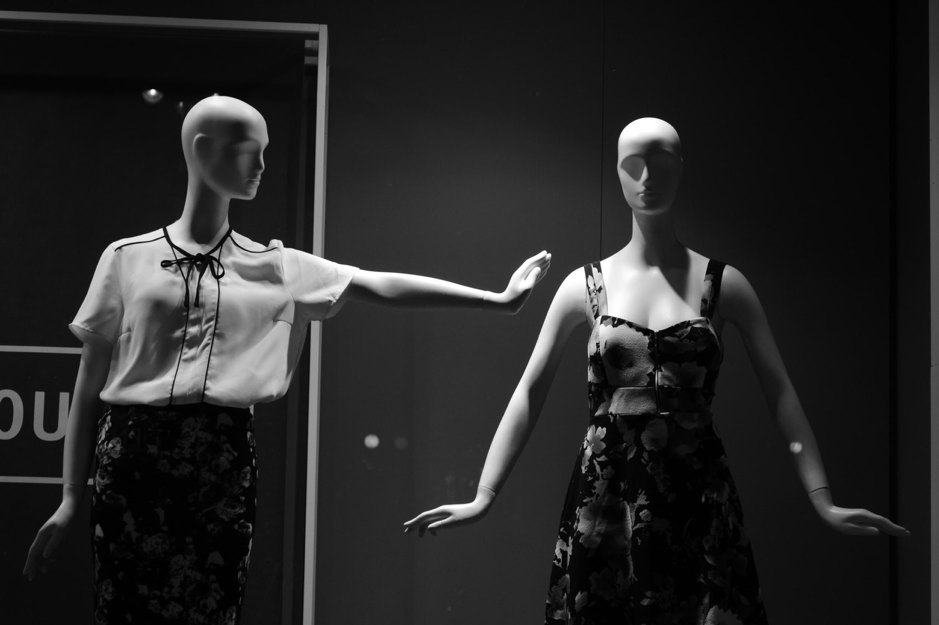 Mannequins in a fashion show
Why Hire Mannequins?
Mannequins aren't just there to fill a space when it comes to exhibition stands and shop windows, they are there to sell the clothing and brand to the customer and to create a lifestyle that your potential customers want to buy into.
Show the Clothes Off Properly
Having your collections at hand on rails at a trade show or event for your potential customers to browse is fantastic. However, to really show the clothes off to their full potential, you'll need the help of mannequins. Without overpowering the stand, mannequins allow you to show how the clothes fit and fall on the figure, making them more sellable to your clients.
Bring Your Stand to Life
There's nothing worse than a flat trade show stand with no life. Mannequins attract attention, add some depth and dimension to a stand of any size, and give your brand a burst of energy.
Use Mannequin Hire for Flexibility
Mannequin rental allows you to be completely flexible when it comes to choosing which models will work best. Every event and trade show is different, so mannequin hire allows you to swap and change to suit every occasion and location.
Make Life Easier
When it comes to mannequin hire, you can tick one extra thing off your to-do list and have your chosen mannequins delivered directly to your event location, allowing you to focus on the rest of your stand décor.
Want to learn more about how to dress your mannequin?
What Are the Types of Mannequins?
Depending on your brand, your products, and the location of the exhibition, trade show or event, you'll require different types of mannequins. Let's take a look at the types of mannequins ExpoCart can offer you and which kinds of businesses might need them.
Male and Female Mannequins
You'll find both male
male
and
female
mannequins in a range of stances to suit your brand and products. Choose from natural or posing stances to suit.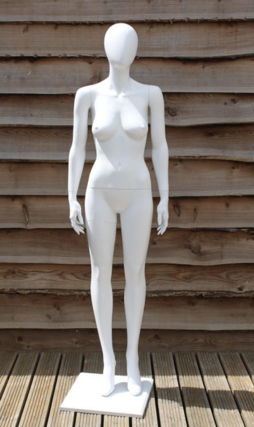 Female full body mannequin
Seated Mannequins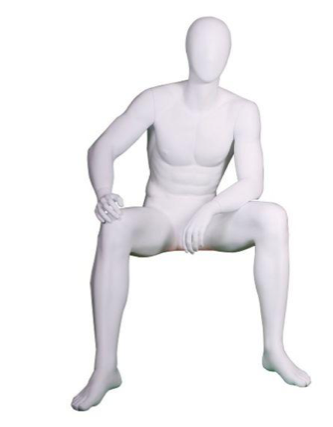 Seated male mannequin
Add some dimension to your stand with seated mannequins that you can place in and around your selling space. Creating more of a lifestyle feel,
seated mannequins
are a great way to add interest to a space while consistently selling your products.
Seated mannequins are also a great option in the case of pop-up shops, where you are trying to replicate the look and feel of a full-time fashion store.
Child Mannequins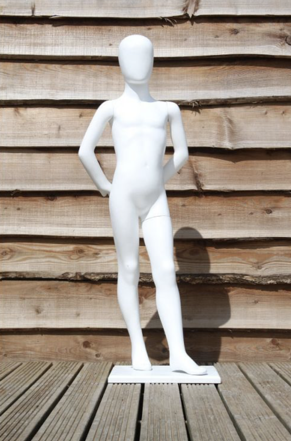 Child full body mannequin
Do you have a childrenswear or lifestyle brand with both adults and children's clothing? At the height of approximately an 8-year-old child, you'll find smaller
child mannequins
, perfect to showcase your childrenswear.
Bust Mannequins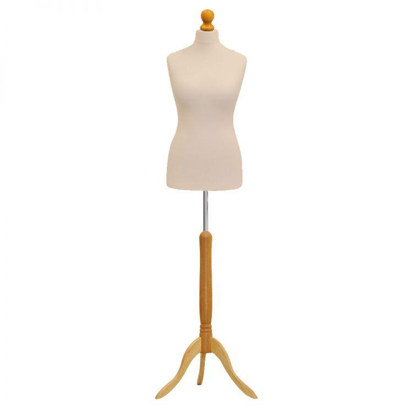 Female bust mannequin
Bust mannequins give you the option of creating shape with the torso, without the features of the head, arms and legs. Often for a more traditional look, bust mannequins are generally used for dresses and shirts for fashion brands.
Natural Skin or Realistic Mannequins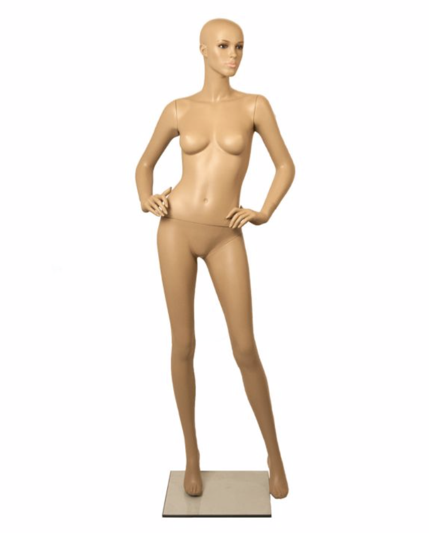 Natural skin mannequin
If you're looking for more realistic mannequins, natural skin mannequins have a realistic skin tone and include more artistically created facial features, including makeup on the female mannequins. These are often paired with wigs.
Abstract Mannequins
Much like our white models, abstract mannequins differ from more realistic mannequins because of details, such as colour, feature detailing and even limbs. For contemporary fashion and lifestyle displays, abstract mannequins can be a great way to show off the clothing without making the visuals too life-like.
Headless Mannequins
Perfect for a more abstract effect or even for locations with limited ceiling heights, headless mannequins are another great option. Created in a range of sizes, colours and poses and both male and female, headless mannequins are a great way to represent the clothing in real life with less of a gender-obvious visual.
Animal Mannequins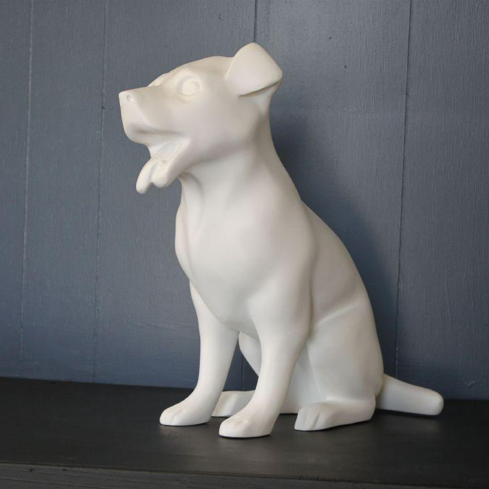 Dog mannequin
Whether you're an animal product designer or simply want to add a little fun to your stand or pop up, you'll also find dog mannequins available to hire at ExpoCart.
When Would I Use a Mannequin
Not simply for exhibitions, there is a range of uses for mannequin hire, allowing you the flexibility and convenience of using mannequins as and when you need without the need to invest in a purchase and stock them yourself.
Exhibitions & Trade Shows
When you have a small space within an exhibition or trade show, lined up next to business upon business of your direct competition, it's more important than ever to stand out. Add to your rails of clothing by selecting your winning pieces dressed on mannequins, ensuring you've done everything you can to direct attention away from the competition and towards your stand.
Pop-Up Shops
Creating your own branding within a pop-up shop space can be difficult. You need to create your own brand identity within a space that isn't decorated or furnished to your taste, meaning that everything you bring into the space needs to be on-brand to perfection. The addition of mannequin hire means you can add your personal touch to the space and create interest by directing attention away from the temporary area and towards your clothing.
Product Launch Events
Got a new product line to present? There's nothing better than showing off your clothing in action. Consider adding mannequins to your pitch to show off each piece of clothing as well as creating dimension and life in a visual way.
There is a mannequin perfect for every brand and product and opting for mannequin rental instead of purchase gives you the ultimate freedom to trial different types of mannequins until you find the perfect one that works for you. From realistic skin tone options to simple and traditional bust mannequins, bring your clothing and trade stand to life with the added life-like dimensions of a mannequin.
Not sure which is the right one for you? Don't hesitate to get in touch and our ExpoCart team will be happy to take you through the options and advise.