But if you're not a tech whizz then you may need some help making sure that your media is set up perfectly so that you don't have a panic on the exhibition set up day. If you're able to be at your
hired exhibition stand
with the media files when our supplier makes your delivery, then they will be able to help you make sure your content is running smoothly. There's also some basic steps you can take to ensure you're provided with the correct cables and your media is in the right format.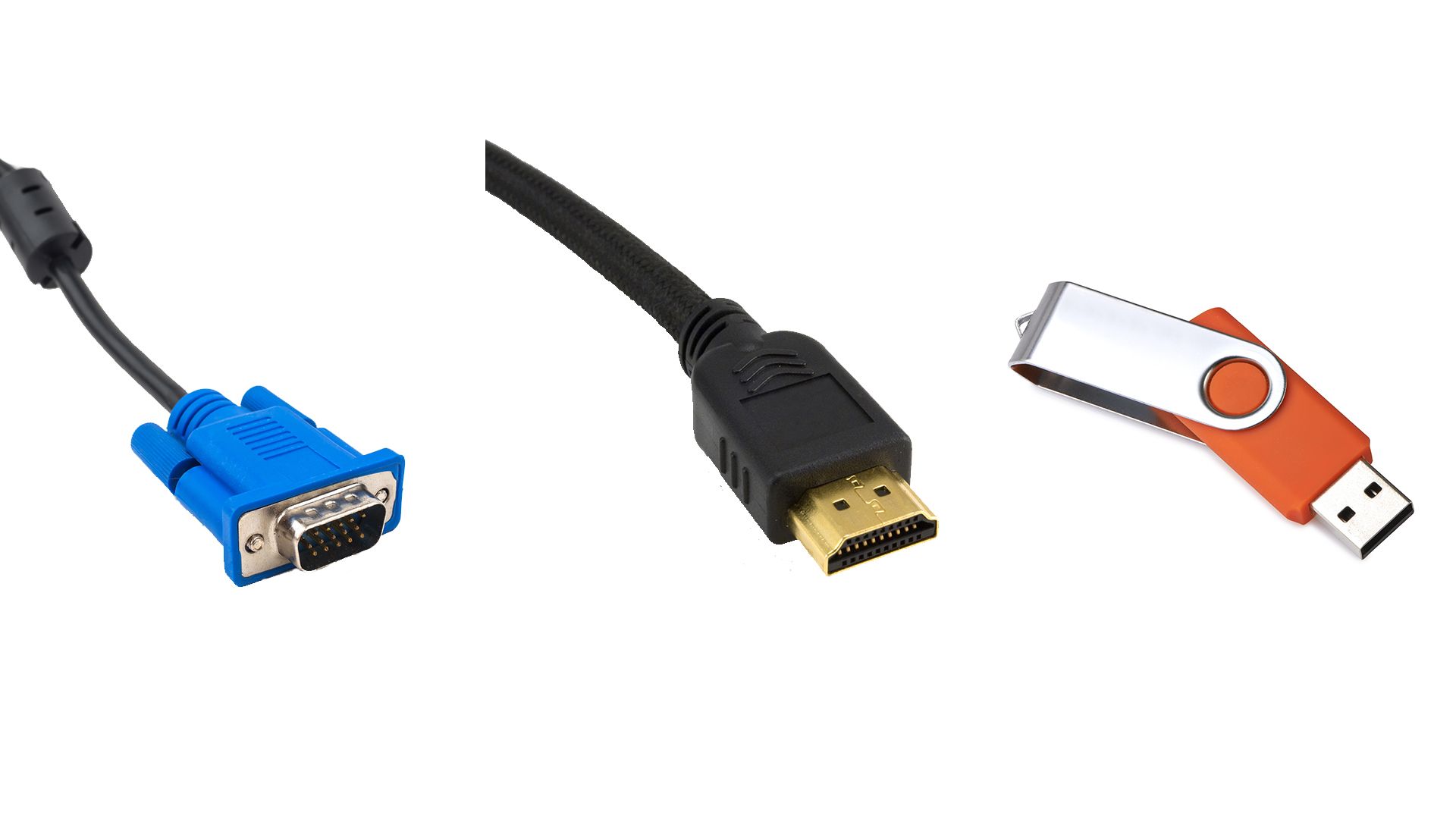 From left to right: VGA cable - HDMI Cable - USB Stick
Firstly you need to decide if you'd like to display your content from your laptop or from a USB stick.
If you choose to display from your laptop then there are two cable types available: VGA and HDMI. These cables will allow you to project the screen of your laptop straight onto the TV screen, so you can use your touchpad or mouse to navigate and you can use your laptop in all the ordinary ways but just with this content projected to a bigger screen. Be warned, though, that WiFi at exhibition halls can be very unpredictable, so we wouldn't recommend relying upon the strength of the connection. It's better to create an off-line presentation as a back up option, or
purchasing your own WiFi connection
to ensure a fast, reliable connection.
You'll also need to consider where to place your laptop. We can supply floor, trolley and Parabella stands with shelves for you to place your laptop on, though if your screen is wall mounted you'll want a high table nearby so that the cables between the screen and the laptop don't run around your whole stand from one to the other.
Next you'll need to understand which cable type your laptop supports.
VGA cables
are most commonly seen on older laptop models, and have been replaced in newer models by HDMI cables. VGA cables have a number of pins inside, whereas
HDMI cables
are flatter. You may also find that you need an adapter to allow one of these cables to be inserted into your laptop's ports, if you have an Apple laptop for instance.
If you opt for using a
USB connection
, rather than connecting your laptop, then your screen will look much neater, with only the power cable in use. USB sticks can be small and discreet, but require you to format your media to be mp4 files or .mov to allow for seamless looping of your video content. If displaying static images, these can be in any format, but will only play as a slideshow in a
.mp4
or
.mov
file.
All our
TV screens
are provided with the power cable and HDMI connections as standard, if you require alternative cables please make sure you add this requirement to the delivery notes section of the check out.