Here, read through some key things to consider when choosing your stand and how ExpoCart can help you make the right choice for your business.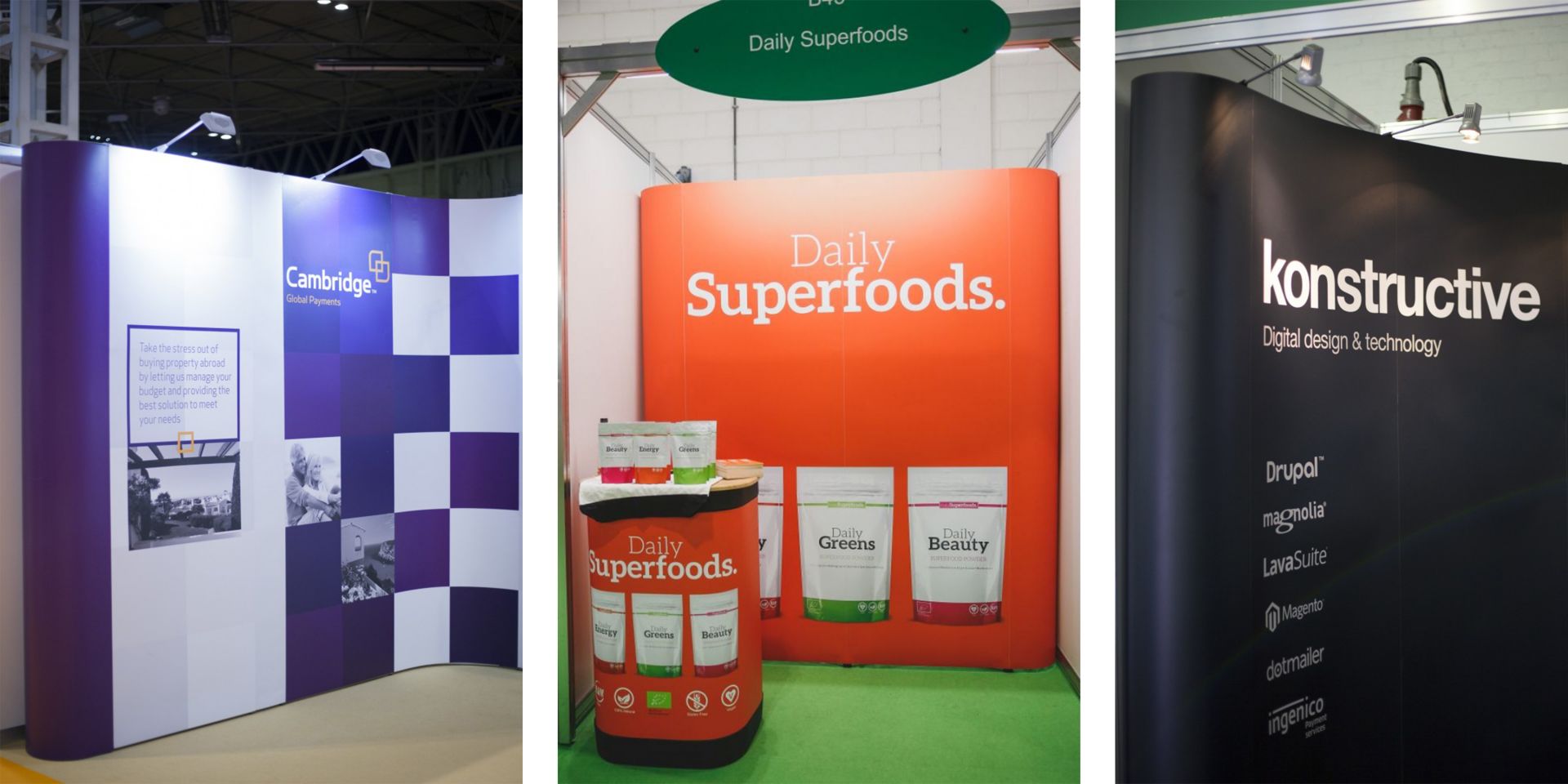 An array of different Pop Up Stands
Consider Your Specific Event
Not only do you need to really consider your specific event as a whole but you need to think closely about the actual space you have to use. Whether you have a large exhibition stand or a tiny space, we have
pop up stands
that mean you make the most of your space, ensuring no angle or inch goes to waste.
When it comes to space, also pay attention to the height. In many exhibition venues, the ceilings are equipped to allow you to use
exhibition hanging structures
, which allow you to display even more signage without taking up any more floor space on your stand.
If you are exhibiting and have opted for a shell scheme stand which as standard come with plain walls, you can choose from our range of Standard Pop Up Stand Kits or our Linked Pop Up Stands which will cover not just the back wall and can curve around the inside of your shell scheme stand covering the empty white walls.
Our Linked Pop Up Stands come in a range of different shapes - 'L' or 'U' shapes making them perfect for transforming shell scheme stands into a fully branded experience which can be reused for multiple different events and exhibitions. The same stand can be reconfigured into different shapes meaning it is an affordable display solution for multiple events!
If you have not opted for a shell scheme stand, it is most likely you have chosen to have a space-only stand where double sided pop up stands are fantastic for 360 degree promotion so they are great for high traffic footfall areas!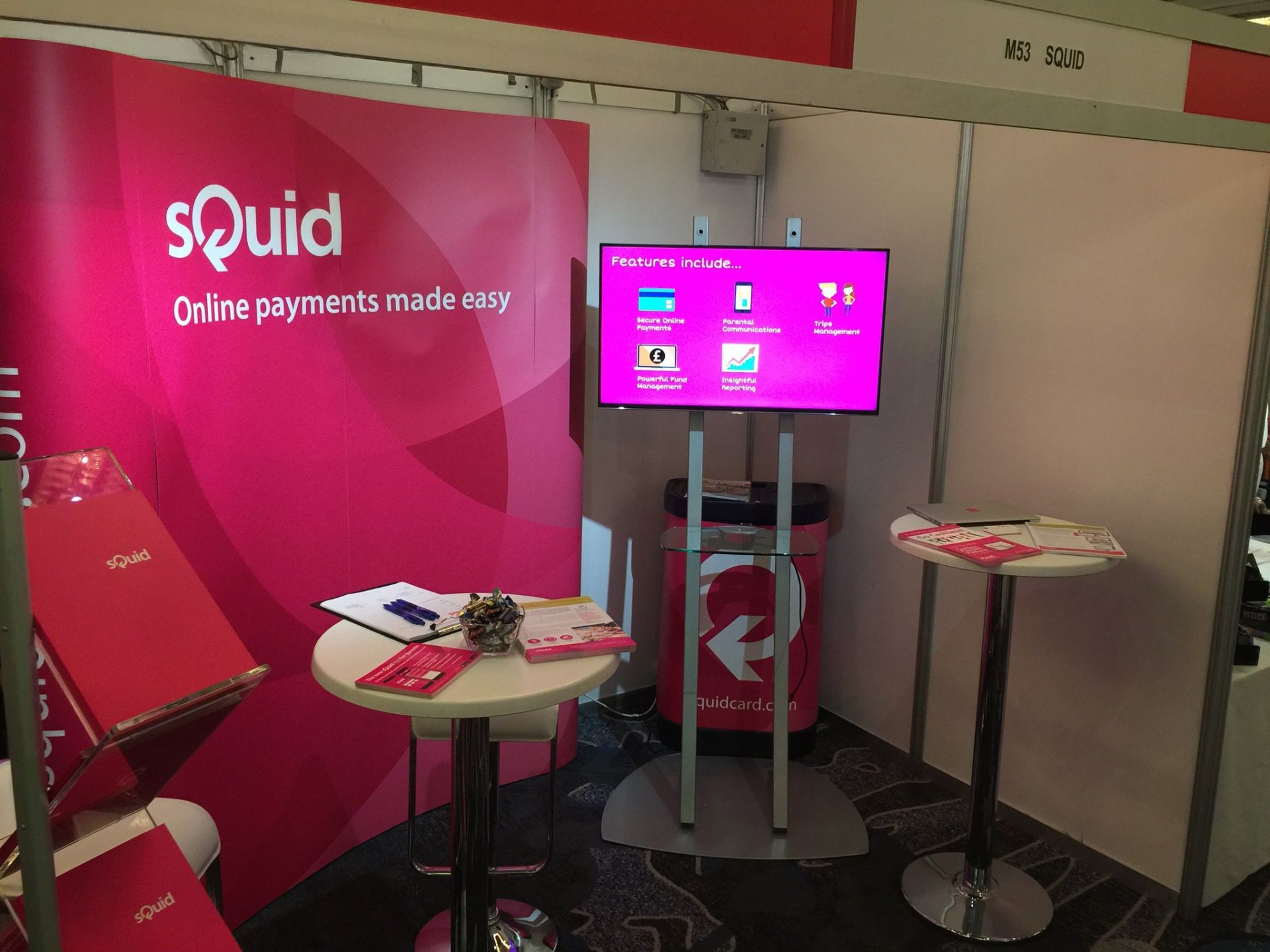 Make an impact with pop up displays
How Much Do You Want to Spend?
Cash often comes down to the decision making when it comes to your exhibition stand choice. Exhibiting is generally a very expensive thing to do and that often doesn't leave as much as you'd like in the visuals budget, which we understand. However, if you're spending lots of money on a spot at a key exhibition, is it really worth doing it half-heartedly? Without visuals that you're proud of and that really show off your business?
It's important to gauge exactly how much you are able to spend on your pop up stand and then you can look at your options. If you'd like some extra help, please get in touch with ExpoCart and one of our exhibition experts will be happy to help run through the options with you and get the best out of your budget.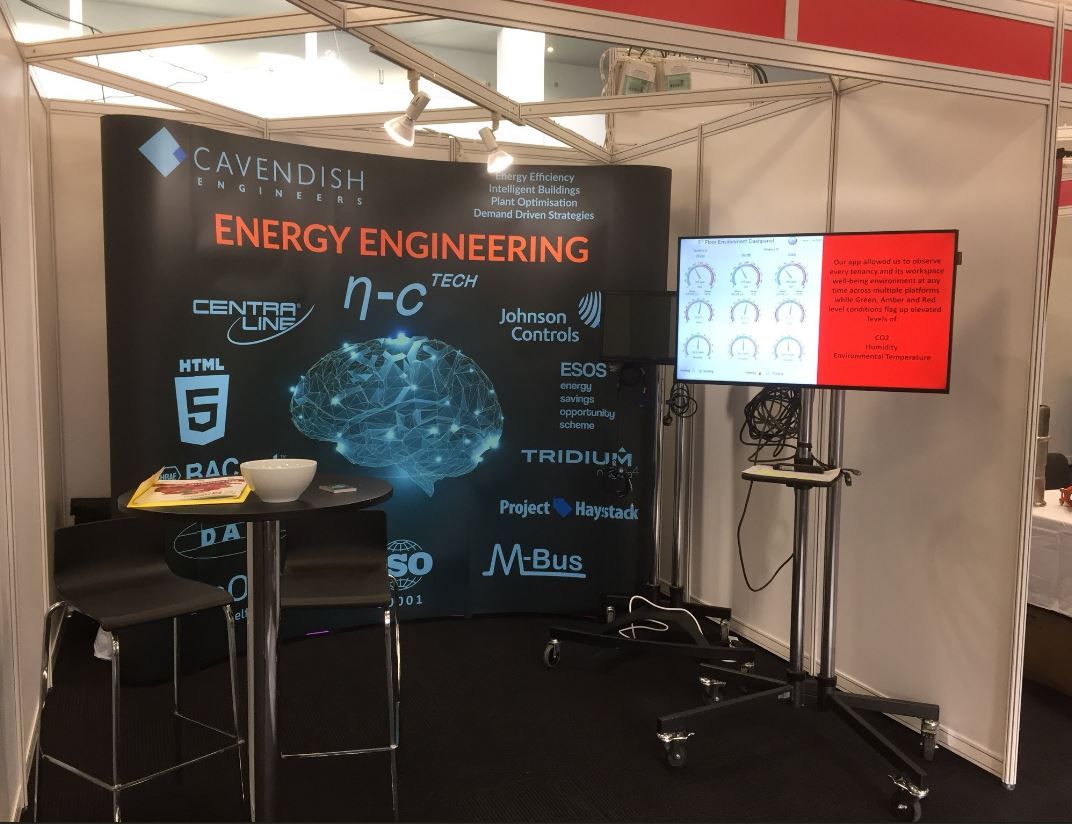 Curved 3x2 Pop Up Stand
How to Use Pop Up Stands to Your Advantage?
Opting for a pop up stand creates a backdrop for your exhibition stand and gives you the chance to brand your temporary hired space. But pop up stands also have many more benefits.
By opting for beautiful visuals, you can create a step and repeat or photoshoot style opportunity with your pop up stand that not only promotes your brand but also gets people excited, taking photos for themselves.
Not only do pop up stands mark out your exhibition space, but they also give your space a professional edge and grab attention from potential customers across the venue. Lastly, pop up stands can be used to their maximum by pairing them up with the rest of your stand. Use your brand's colours, imagery and logo across your pop up stand,
fabric displays
,
banner stands
and even down to your
exhibition flooring
. This is a key way to use pop up stands to recreate a real retail space that teaches your visitors all about your brand.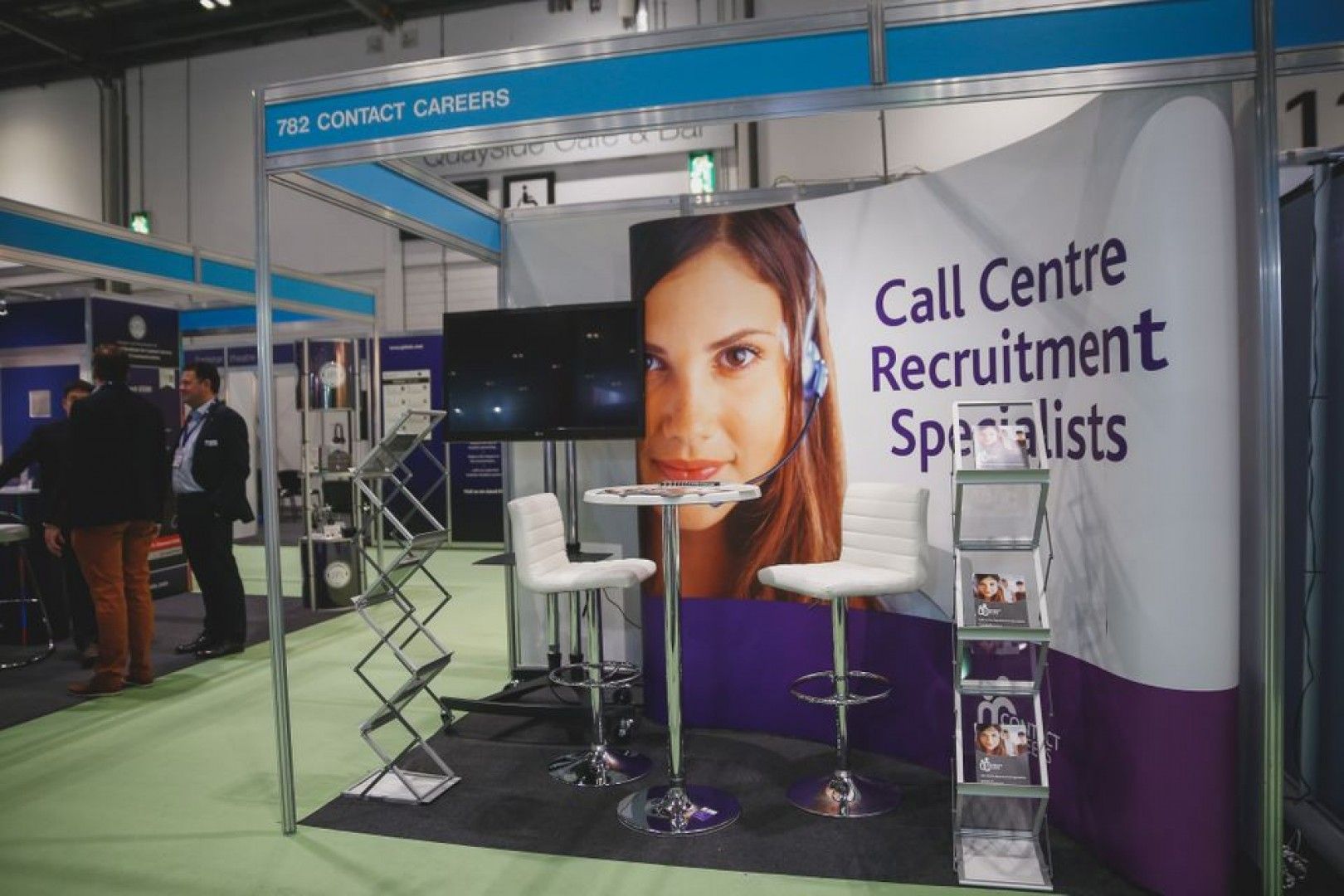 Simple yet striking design - Curved Pop Up Display Stand
Why Choose Pop Up Display Stands from ExpoCart?
Choosing the right pop up stand can be made slightly easier when using ExpoCart. This is because we have years of experience becoming experts in exhibitions and know exactly how to create displays that work for you and make your graphics look the best they can.
We also have 3 key promises that make us different.
We Promise a Great Price
We know every business has a different budget so we have created a range of pop up exhibition stands at every budget to suit all size businesses.
We Promise the Best Quality
Everything we make and send out is manufactured in the UK. Therefore, we promise that every product is quality checked to guarantee you receive exactly what you expect.
We Promise to Double Check for You
Because we have our own team of designers, we can promise to double check your artwork before we print and make sure it's great quality. If it isn't going to look good on the pop up stand, we'll get in touch before we print to make sure it's always the best quality visual.
Choose from our huge range of pop up stands and find the perfect exhibition solution for you and your business.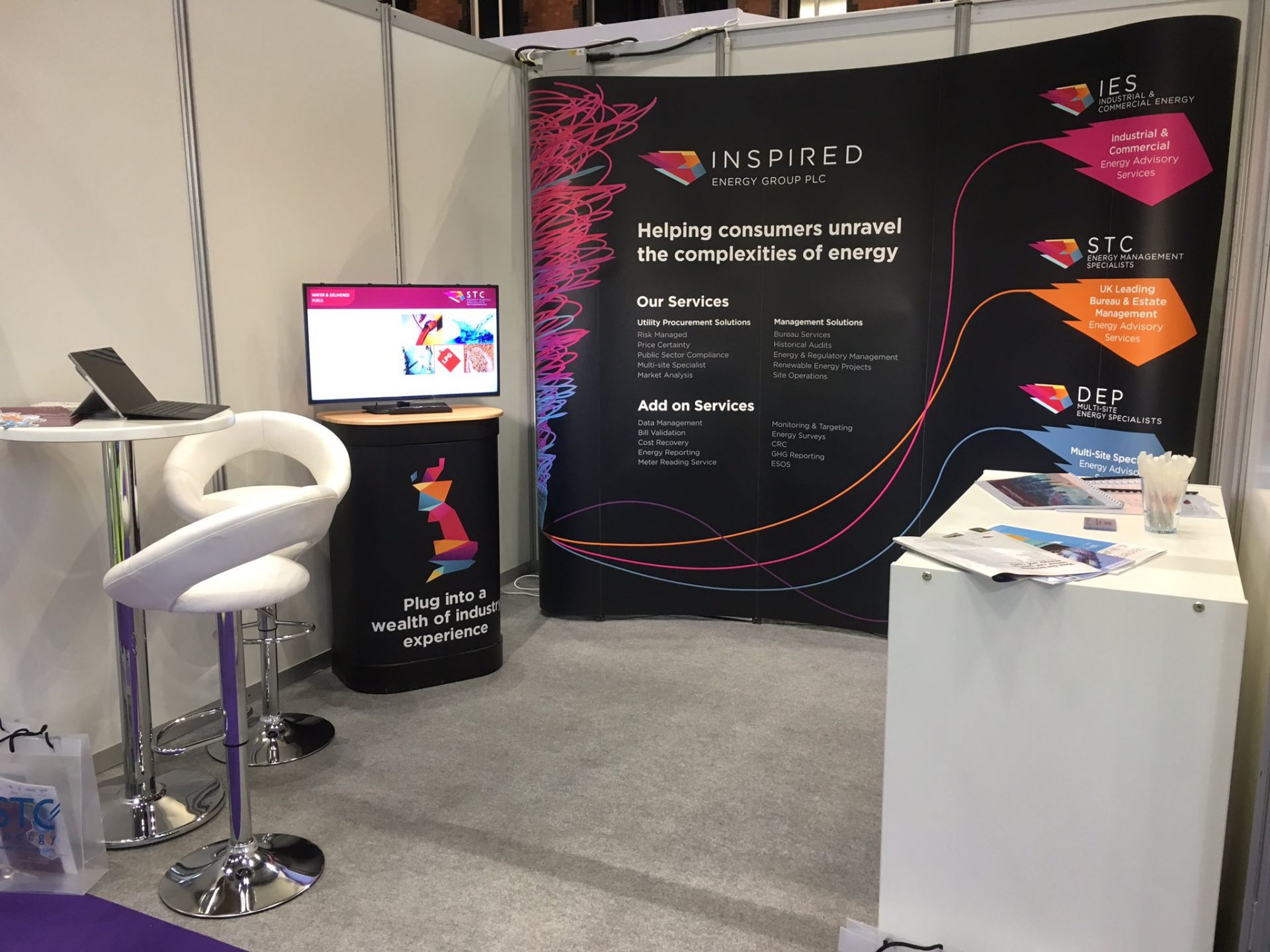 Stand out from the crowd with printed pop up stands