From
roller banners
to
pavement signs
, there are various occasions when you might need to know more about poster sizes and A paper sizes to ensure you order exactly what you need for your business.
How Do Poster Sizes Work?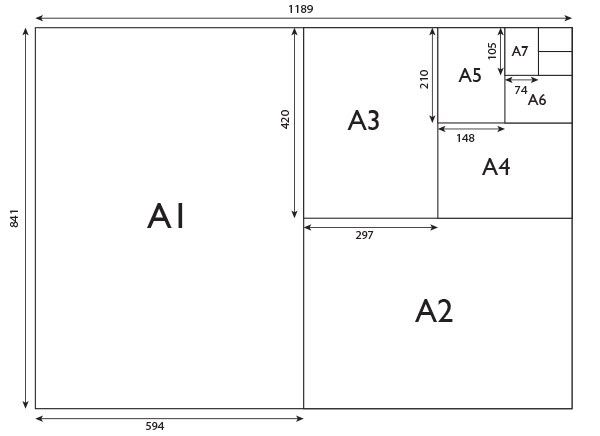 Diagram showing different A poster sizes
Used internationally, poster sizes work most commonly in A paper sizing codes. This runs from A0 to A10, with A0 being the largest poster size and A10 being the smallest poster size. To understand an idea of scale, the above image allows you to see the poster sizes layered together, where you can see the difference in sizes as the A paper number increases.
Within the image above, you can also see that the A0-A10 poster sizes are shown in both mm and inch measurement units, so always ensure that you are using the right form of the measurement unit when working out which poster size is the right one for you.
A standard piece of writing or print paper used in all offices and homes is A4, which can give you an idea for a starting point.
How do poster sizes scale up?
To get a better understanding of how poster sizes scale up in comparison to one another, A0 is the largest size at 841mm by 1189mm, then A1 is exactly half of this size, measuring 594mm by 841mm. A2 is half of A1, A3 half of A2 and so on until you reach a very small A10 size, measuring just 26mm by 37mm.
Imperial Poster Sizes
Although metric A0-A10 poster sizes are commonly used throughout the UK, Europe and the rest of the world, imperial poster sizes are still sometimes used, particularly throughout the US.
When it comes to imperial measurements, inches are used as the unit of measurement. For imperial poster measurements, sizes tend to come in large, medium and small, with smaller posters than this reverting to the previously explained, A4 size or smaller. These smaller sizes are more commonly used for printing leaflets and flyers rather than posters due to the size.
Here, you can see the imperial measurements in inches of standard poster sizes.

When designing a poster or A paper print that you are planning to frame or add to a pavement sign or other display frame, always remember that the edges could be covered by the edges of the frame, so ensure that you are aware if you need to leave bleed room around the edges of your print design.
Choosing the right size poster for your business depends on how you plan to use it. Ensure that you understand fully the size differences when it comes to both A paper and imperial sizing as the difference from just A2 or A3 can make a dramatic difference on whether it matches your expectations on arrival.
If you're still not sure which poster size you should be choosing, don't hesitate to get in touch with the ExpoCart team and we'll help you to decide.
If you want an easy way to remember all the different sizes, then check out this video on how to easily remember A series paper sizes!