OK so perhaps there's not 26 different styles, but there's still a lot. Tall, wide, corner, there seems to be a glass cabinet to suit every product you could possibly want to sell, and if there isn't a glass cabinet for your product then one can be built to suit! For brevity we'll stick to the
glass cabinets
that do actually already exist, a handy guide to which we've laid out for you below.
Counter Top Showcases:
Perfect for delicate jewellery or gems requiring centre-stage levels of attention. A counter top showcase will allow your customers to get much closer to the items than if they needed to bend down to see the items in a counter, so do consider this product for displaying items with intricate detail at eye level. This is also a great choice if your products are small or you only have a very small stock of items to display which would look bare in a larger showcase.
Corner Showcases:
Is space limited on your exhibition stand? A great way to maximise the use of space is to hire corner showcases to fill the corners of your stands, plus these are used less frequently than rectangular showcases so will automatically stand out on your exhibition stand as unique to your neighbours. Corner showcases also allow three angles from which to view your products which can be useful if showcasing a product with side detail. Bear in mind, though, that the door to this glass showcase is the smallest side of the unit, so be wary of trying to place long items lengthways in this showcase.
Rotating Showcases:
Great if you want to catch people's eye from distance. People will notice moving items in their peripheral vision much more than static items, so rotating showcases do tend to draw more attention in busy exhibition halls. A rotating showcase is also a perfect solution if you want customers to gain a 360 degree view of your products.
Counters:
By far the most popular glass showcase style, the counter showcase is perfect for allowing customers to look down upon your items being displayed. These are the sort you'll see in lots of jewellery shops, as they're great for doubling up as a counter top, providing a shop-like feel to your exhibition stand.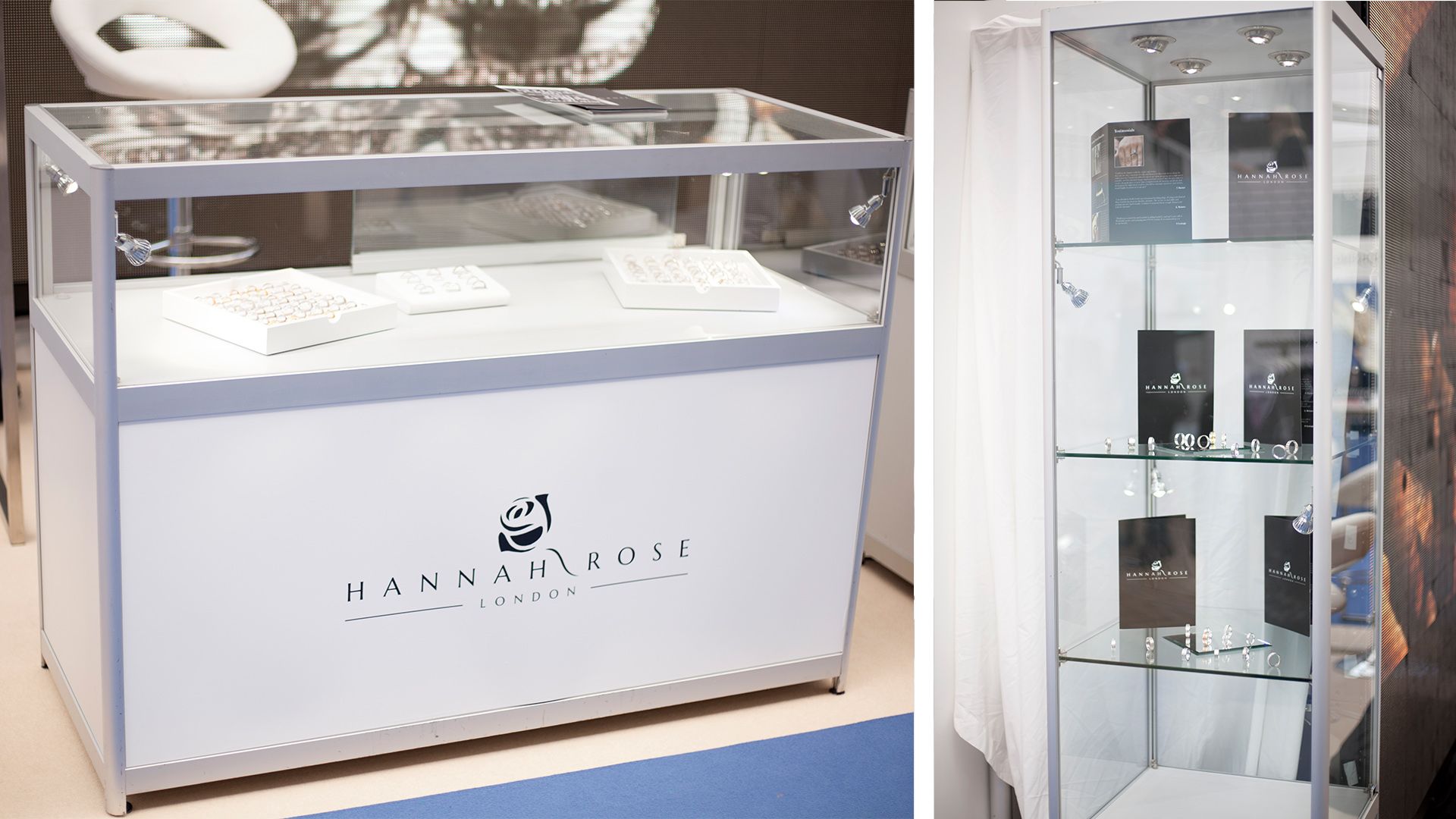 Branded White Counter Showcase - Tallboy Glass Showcase
Tallboys:
If you want to display products at eye level and even higher, then a tallboy is the glass showcase solution for you. These glass showcases are also a good idea for exhibition stands where space is limited as they have a small footprint but are tall enough to store and display all your products. With a larger number of shelves than the counter showcases, think carefully about the relation between the products on each shelf and group the products together into showcases and shelves with purpose.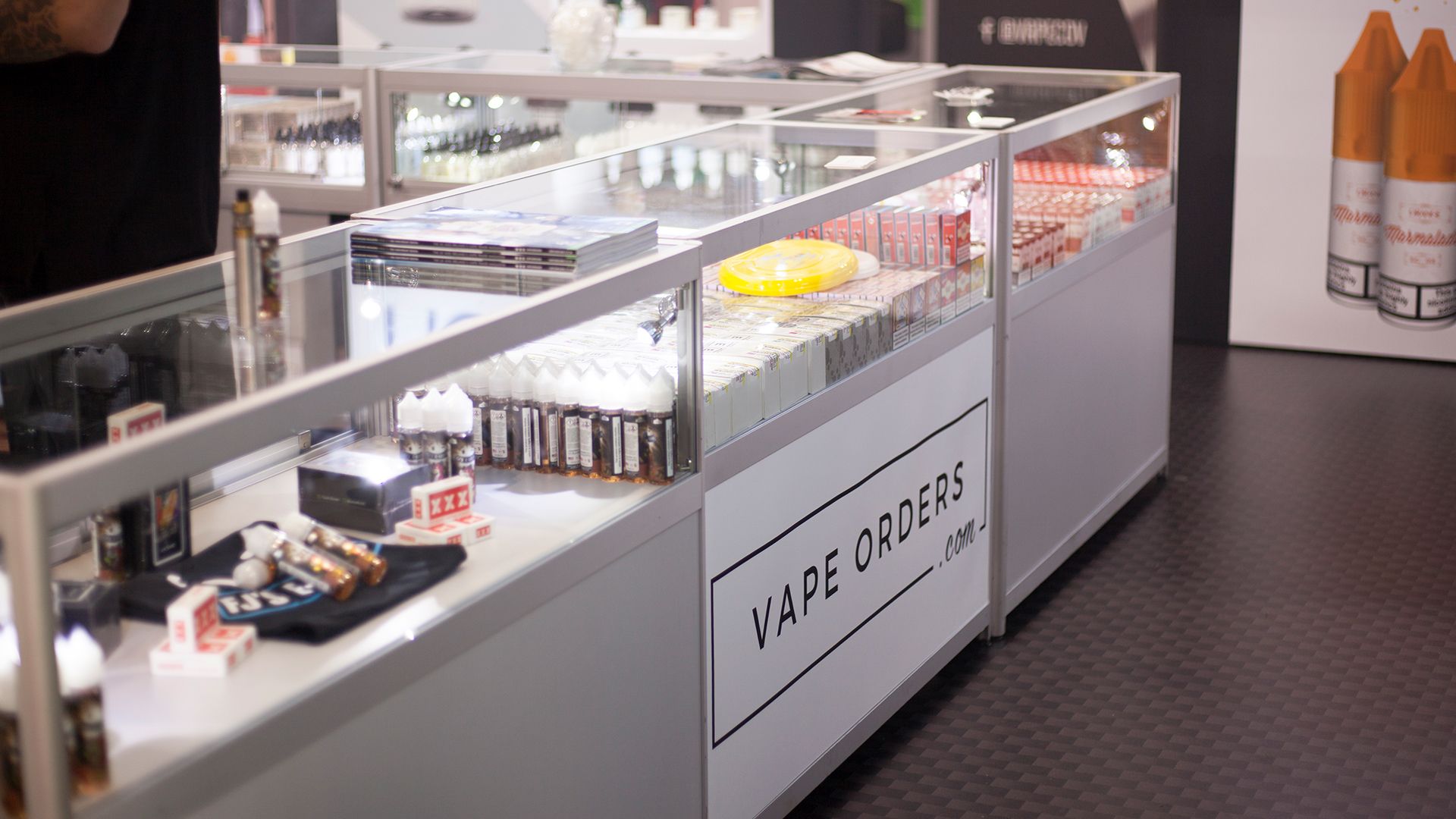 Branded Counter Showcase
Branded:
A great exhibition stand has a cohesive brand message, which can be improved by adding a
branded showcase counter
to your stand, along with the shell scheme walls. Especially if you plan to place your glass showcase at the front of your stand, or at an angle from which you wouldn't be able to see your shell scheme branding well, branding the front of a showcase can project your branding to a wider audience than just those visitors near or on your exhibition stand. Being illuminated this will also draw attention to your showcase and subsequently your branding.
Wide cabinets:
Providing the largest display areas, wide glass showcases are great if you want to display a large amount of stock, or larger items. They can be very striking when full of your perfectly illuminated products, and would provide a great centrepiece at any exhibition stand. Take a look at our
full range of exhibition furniture for hire
to find one that meets your needs.