A successful trade show stand needs to be engaging and eye-catching, which will certainly result in a large number of people flocking to your business and paying attention to what you have to offer. The goal of your trade show stand should not be to convince customers to buy your product, but rather to have a positive impact and message that causes prospective buyers to step into your stand and inquire more about what you're offering.
Here are a few tips that can help you create an effective trade show stand.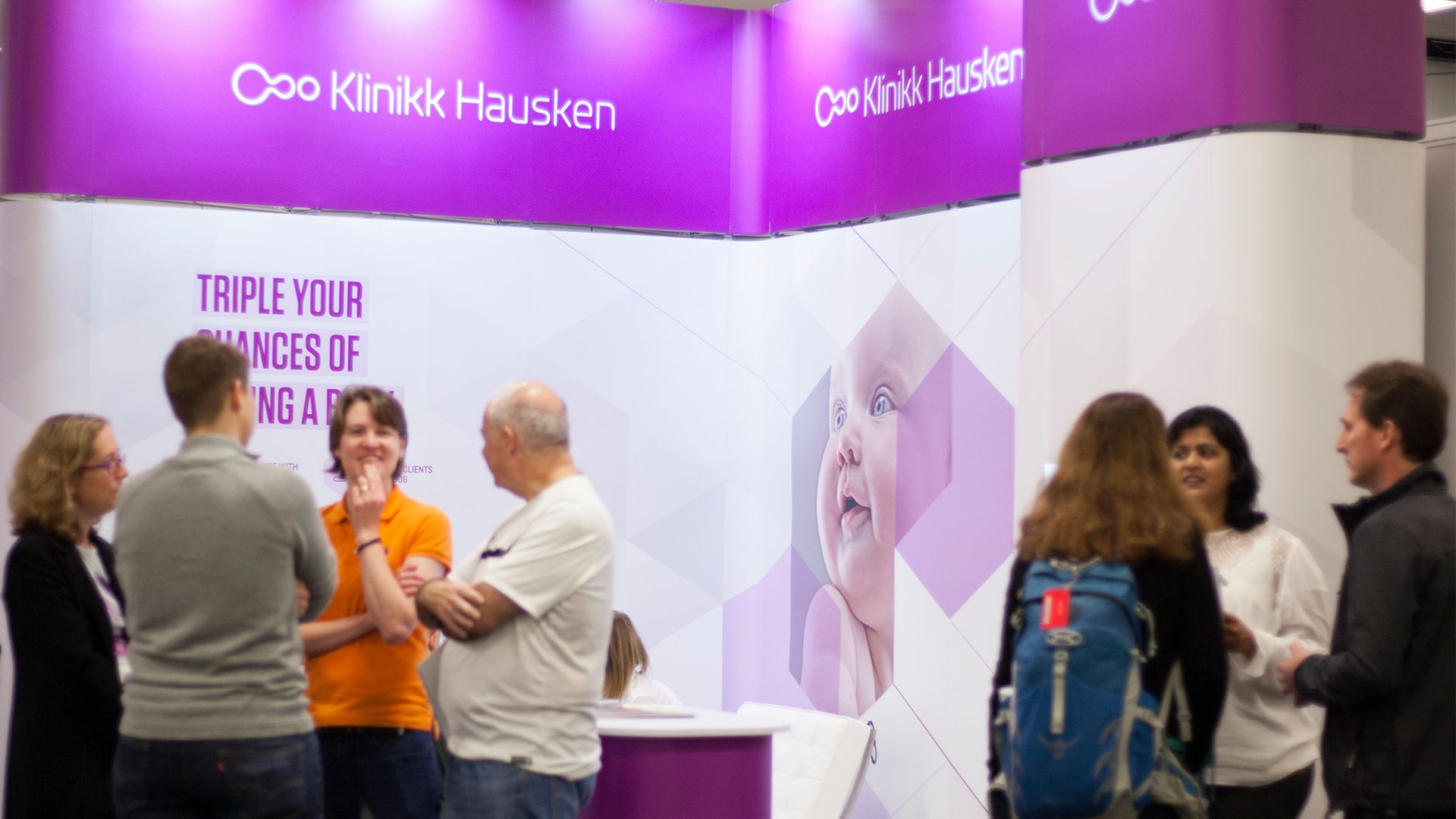 Klinikk Hausken's colourful stand definitely grabbed the Fertility Show visitor's attention
Not One in a Million
It's no secret that trade show stands are a huge investment; both in money and time. So, you need to make sure that your booth will stand out. In fact, you should consider investing in a modular stand that you can use and re-use for several consecutive years.
If you're displaying your product at a trade show for the first time, it's normal to feel that you're at a disadvantage. The key to creating an impressive stand is to be more open to taking risks. Since most businesses tend to be conventional and risk-averse when it comes to trade shows, taking a few risk to be different and help you stand out will really set you apart from all the others.
Spending some money on a colourful, attention-grabbing
fabric displays
is something that will definitely increase the chances of your business gaining popularity among other trade show stands.
It's all in the giveaways!
While the overall display of your stand matters, the promotional items you choose to advertise your product with will undeniably impact the amount of attention you can attract in a trade show.
Offering items such as free pens or mugs with the corporate logo on them is an unoriginal idea that can actually worsen the number of passing customers rather than increase it. Investing in unique, high-quality promotional items is the best route to take in this situation, and will make people stop at your booth and listen to what you have to offer.
You can take a more creative course than normal by offering quirkier products, such as headphones, sunglasses, phone cases, Rubik's cubes, and so on. Be different, and watch the crowds come!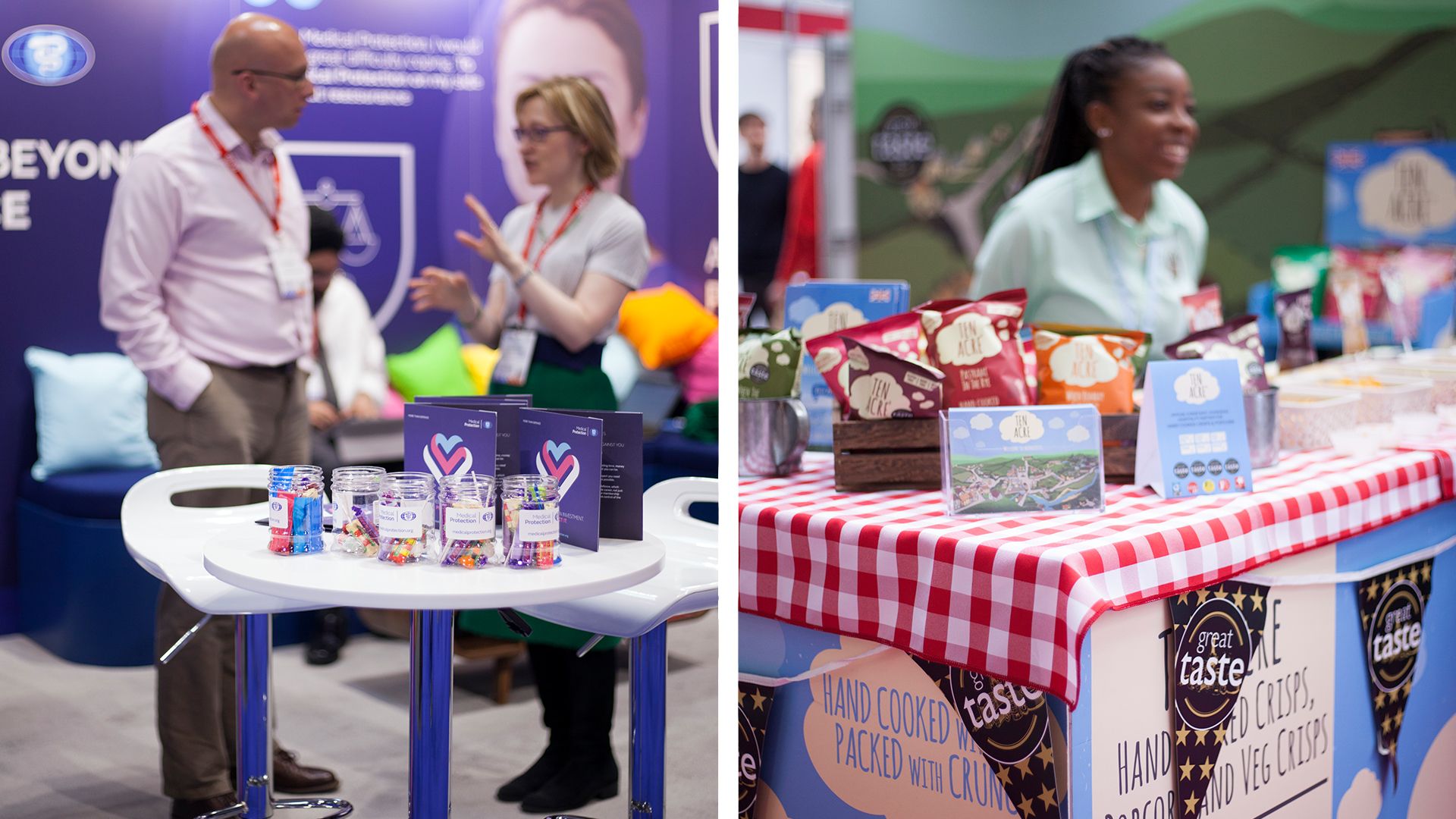 Giveaways are always a winner with exhibition visitors
Be the life of the party
There's no arguing that lots of industry event and trade show stands tend to be boring. In that case, it's important to not only grab the visual attention of your prospective customers but to also make your presence felt.
Make people feel like you're more excited to be at an event that your competition is. Have a friendly conversation with people who stop at your stand. Play some music.
You can even involve your prospective customers in some interactive competitions.
Make sure that the games you choose involve an element of fun and attract positive attention to your product. Most importantly, take the opportunity to collect information from people who come to your stand by having participants sign-up to participate. This will allow you to build a list of people that you can contact after the trade show is over.
To sum it all up, it's undeniable that setting up a successful trade show stand involves lots of planning. Since trade shows involve a heavy investment, it is important to make sure that your trade show stand does, in fact, help you attract more customers to your product. Use all the resources you have, and attend several trade shows to make sure that you are constantly improving. But most importantly, have fun with it!