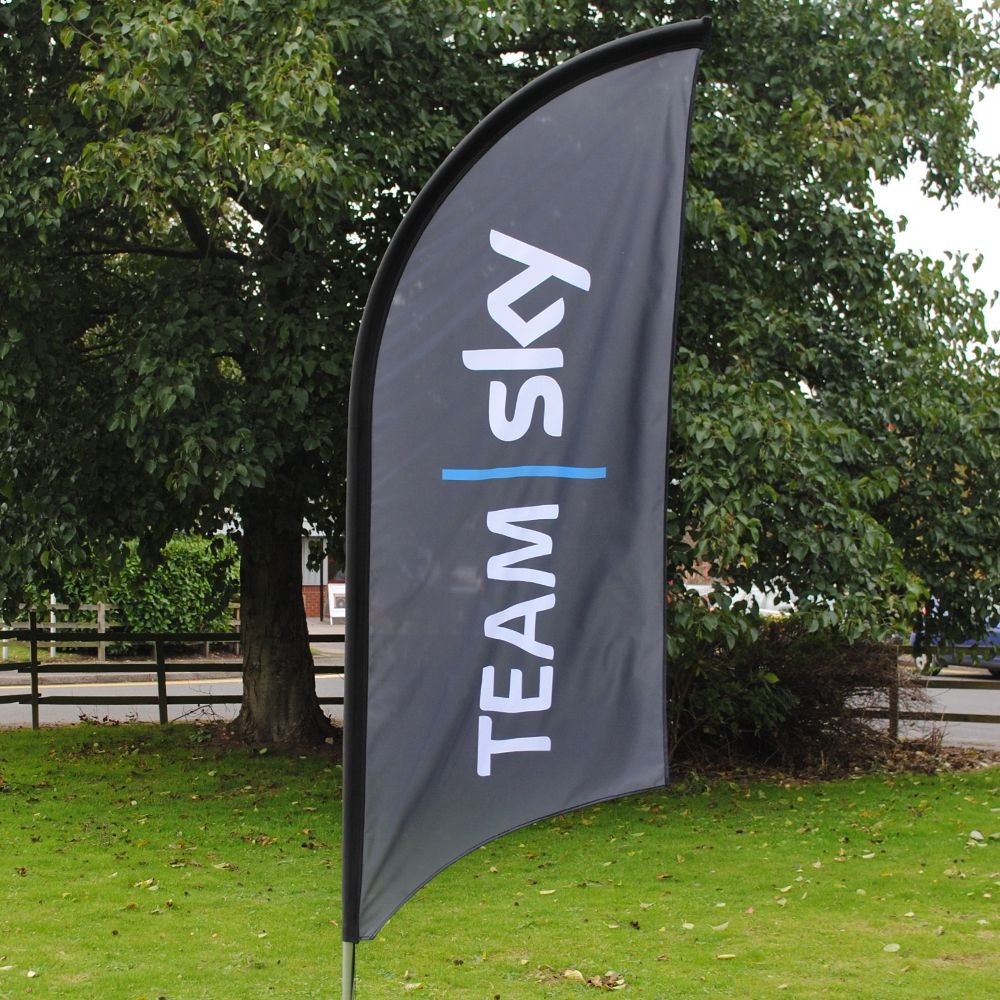 Feather Flag
Take Care When Cleaning
It's important to keep your flag clean and ensure any dirt from outdoor pollution doesn't begin to build-up on the surface. To keep your flag in tip-top shape, regularly wash in warm water with gentle soap, without soaking, and rinse and naturally dry immediately afterwards. If you do need to give it a wash, you can do so by washing it at 30 degrees with a mild detergent.
TIP - When you first open your new flag, rinse it to remove any excess ink and leave to naturally dry flat.
Choose It's Positioning Carefully
Wherever you decide to display your new branded flag, ensure it has plenty of room for any movement. Avoid it flapping and having any friction against anything that could cause excess wear and tear.
Take Notice of The Pole Too
Keeping the fabric of your flag clean is important but also remember to take notice of the pole and keep this clean and clear of dirt or grime to avoid any build-up that could affect the flag.
Pack Up When Not in Use
Although it might not immediately be your first priority when packing away after an event, try to get into the habit of properly packing away your flag after each use to keep it from getting damaged in between events.
Allow your flag to fly free
You can allow your flag to fly in an open area as rubbing against any walls or confined areas will cause unnecessary wear and tear on the flag.
Top Tips for Prolonging the Life of Your Flag
Keep your flag in use for as long as possible with our top tips.
Take Care If It Gets Wet
Many flags will be used outdoors and this means that on occasion, they will be caught in diverse weather conditions. Should your flag end up in the rain, take care when drying. Dry flat and naturally and make sure you don't forget and leave it crumpled only to find it the next time you want to use it.
Monitor the Seams & Hems
Keep an eye on the seams and hems of your flag and should you start to notice any general wear and tear, get ahead of the problem and have it repaired as early as possible. Snip away any excess threads to ensure they don't become a bigger problem later on.
Avoid Use in Extreme Weather
To keep your flag at its best for the longest time, avoid very extreme weather conditions. Although your flag is made for the outdoors and will survive in rain and wind, very extreme wind can cause damage to your flag in the form of excess wear and tear and even rips.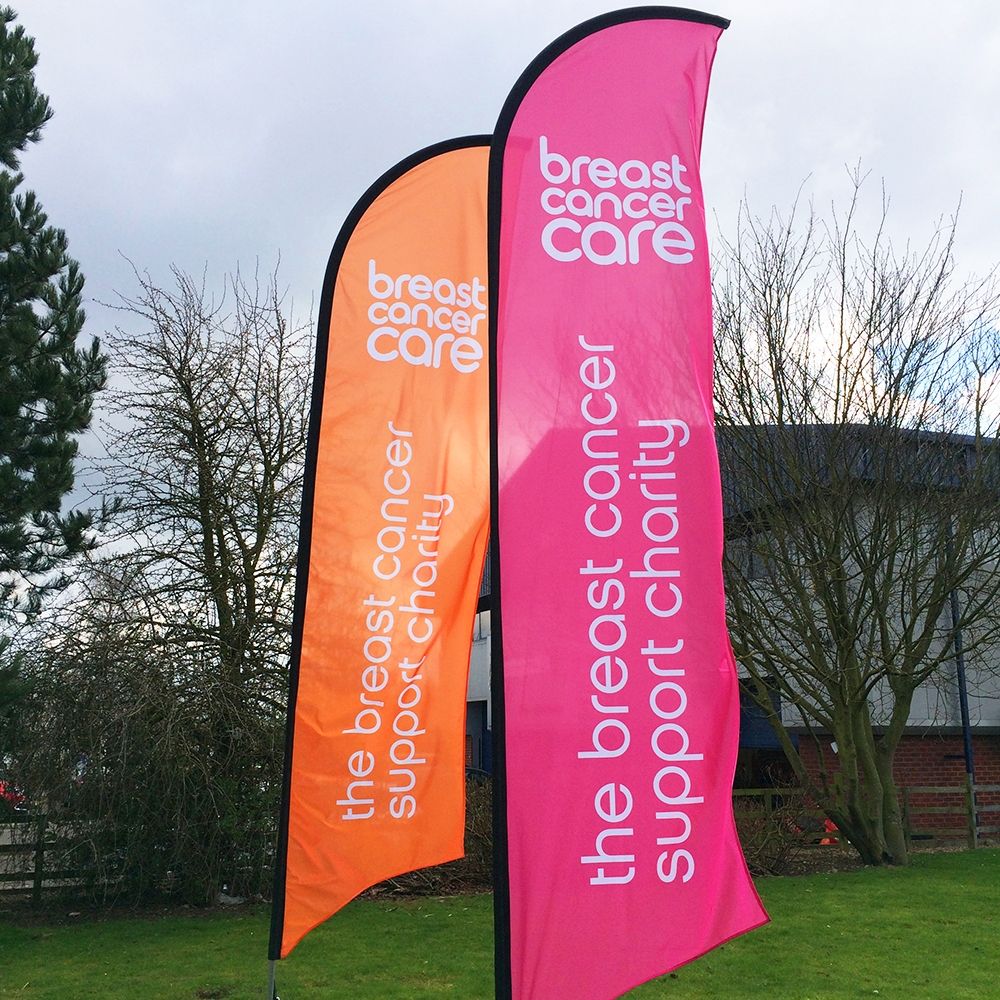 Avoid extreme weather - large feather flags
Choosing the Right Flag at ExpoCart
At ExpoCart, we've designed and created a range of advertising flags that promise to work for every business and event. As well as our wide range of options, we promise unbeatable quality assurance with the latest and best printing methods to guarantee our customers the best possible results every time.
Working to ensure each of our customers is happy with their final product, we offer a free artwork check with every order, which means someone from our team will physically check over your design before printing begins, getting in touch with you should it not reach our high-quality standards.
Take a look through some of ExpoCart's promotional flag options and find the perfect shape and style for your business.
Feather Flags
One of our best-selling flags is the
feather flag
due to the quality and value for money. This shape gives you plenty of space to create a branded message for your business.
Teardrop Flags
Our
teardrop flags
have a slightly different shape and come in a range of size options to perfectly suit your graphics and event.
Backpack Flags
Need to advertise on the move? No problem, try one of our
backpack flags
. They come in a range of shapes and allow you to promote your brand as you stroll around any event.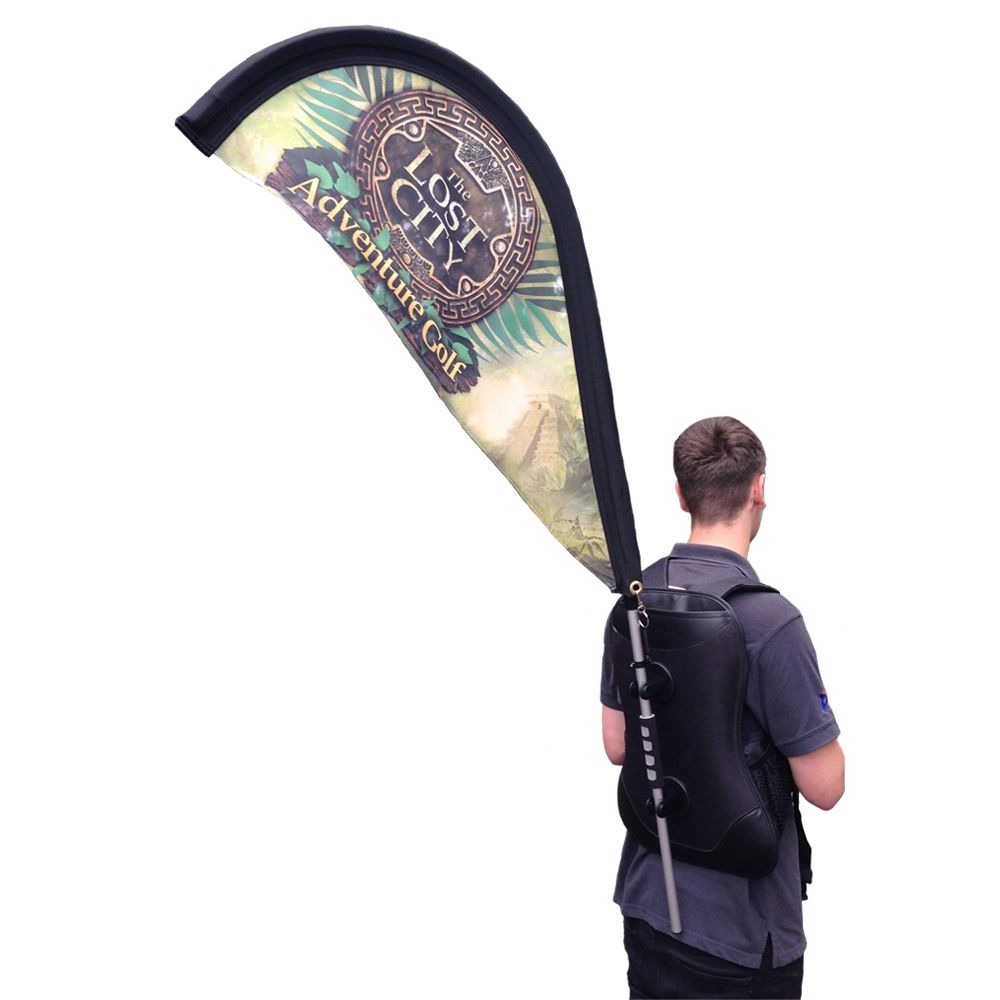 Backpack Flags
Whichever
promotional flag
you choose for your business, use our top tips to care for it and keep it in its best shape for as long as possible to make the most of your investment. Scroll through our flag options and drop us a message or email should you require any extra help.